Ira Kaufman's Week 15 NFL Picks
December 16th, 2017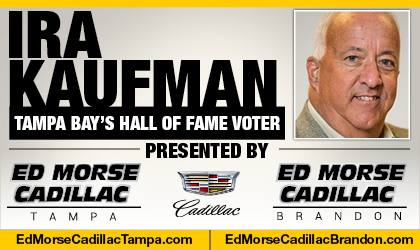 Joe has challenged Ira Kaufman, Tampa Bay's only Hall of Fame voter, to pick against the spread this season for a $500 prize. Every Friday, Ira types out his picks for each Sunday and Monday game. If Ira hits at 53 percent or better for the regular season, then he gets $500 in gift cards to Abe's Place in Clearwater, home of historically amazing food and 44 craft beers on tap. Feel free to send Ira your stone cold locks on Twitter, @ikaufman76. The sage of Tampa Bay sports always appreciates a tip.
BY IRA KAUFMAN
The football gods giveth, then they taketh away.
A week after shocking the world with a 13-2 mark against the spread, yours truly promptly suffered a 2-13 slate that put your favorite soothsayer in his place.
A 77-108 overall record is proof positive that Vegas books are in no danger of losing their shirts when I'm at the betting window. With three weeks left to gain a shred of dignity, here we go:
LIONS minus-5 vs. BEARS. Detroit is still in the hunt and the Lions aren't about to lay down like the Bengals did against Chicago last week.
CHIEFS plus-1 vs. CHARGERS. KC got Kareem Hunt going again last week and he will be the key in this showdown for AFC West supremacy.
EAGLES minus 7 1-2 at GIANTS. The loss of Carson Wentz is a tough blow, but Philadelphia still has enough talent to beat a Giants team that can't wait for the offseason.
PANTHERS minus-3 vs. PACKERS. Carolina's defense will shine at home, whether Aaron Rodgers makes his long-awaited turn or not.
VIKINGS minus 10 1-2 vs. BENGALS. Minnesota's winning streak is history, but the Vikings have their eyes on a first-round playoff bye and Cincinnati has packed it in.
BILLS minus 3 1-2 vs. DOLPHINS. Coming off a short week, the Dolphins will go back into hibernation after surprising the Pats.
TEXANS plus-11 at JAGUARS. Jacksonville can't afford to slip up against an injury-riddled opponent, but the Texans have enough defensive studs to stay close.
SAINTS minus 15 1-2 vs. JETS, You don't see point spreads this lopsided very often, but the Jets are spent and the Saints will get back to basics in the Superdome.
CARDINALS plus 4 1-2 at REDSKINS. Two disappointing clubs are finishing out their seasons with little fanfare in the nation's capital.
BROWNS plus-7 vs. RAVENS. Here's another opportunity for the Browns to ensure they will not finish 0-16 and join the 2008 Lions for futility.
RAMS plus 2 1-2 at SEAHAWKS. A balanced attack by the visitors will make things difficult for a Seattle defense missing some critical components.
PATRIOTS minus-3 vs. STEELERS. Pittsburgh's habit of falling behind will prove decisive against a New England club still stinging from the flop in Miami.
49ERS minus-2 vs. TITANS. There are signs of life with a young 49ers team that is learning how to win.
COWBOYS minus-3 at RAIDERS. While Oakland took its shot last week at Arrowhead and fell short, the Cowboys are gearing up for a big finish.
FALCONS minus-6 at BUCS. Tampa Bay's defense could be missing some key starters as Atlanta takes another step toward an NFC wild-card berth.