Inside Gruden Saturday Bash; Glazers Assessment
December 18th, 2017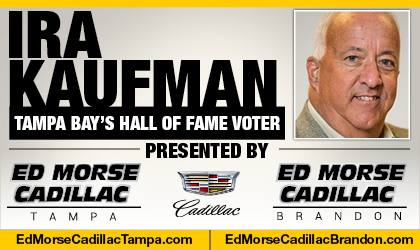 Ira Kaufman is the most revered sports personality and writer in town. He has hung his hat at JoeBucsFan.com world headquarters since July 2016. Tampa Bay's only Pro Football Hall of Fame voter, Ira busts out columns here every Monday, Wednesday and Friday, and his award winning podcasts fire Tuesdays and Thursdays. You can also see Ira every football Sunday at 10:30 a.m. on FOX-13, Scott Smith's Tailgate Sunday.
BY IRA KAUFMAN
Jon Gruden's homecoming affair is a joyous occasion, a chance for the Tampa Bay community to express its appreciation for a Super Bowl-winning head coach as he enters the Ring of Honor.
It's also a sad reminder of where this franchise has dwelled since that fateful evening of Jan. 16, 2009.
It was a Friday night and I was at a local dining establishment with my wife when the phone rang. Just as I was polishing off my second margarita, the office called with the news that Gruden and GM Bruce Allen had been fired.
After a few choice expletives, I asked for the check and tried to gather my thoughts. A 9-7 season had been history for 19 days before the Glazers canned the winningest coach in Buc history.
Gruden and Allen had been given extensions only a year earlier, adding to the intrigue. Nobody saw this coming, including Gruden.
"At the end of the day, every year we feel we owe it to this football team and this community to do a good honest assessment of our franchise," said co-chairman Joel Glazer. "If at any point, we feel that change is in our best interest, we feel we have to make that change. That's where we got to in this situation. You can't let decisions you made a year ago affect a decision today."
Since that change, the Bucs are 49-92 heading into tonight's matchup against the Falcons. This will be Tampa Bay's seventh last-place finish in the NFC South during the ensuing nine seasons.
Inside Gruden's Private Party Saturday
The Bucs have been through four head coaches and six years of double-digit losses while Gruden slid comfortably into the analyst role at "Monday Night Football" and became ESPN's highest-paid employee.
I was fortunate enough to be invited to a little shindig Saturday night at the original Hooters, where Gruden and 100 of his closest friends got together to toast his induction.
Warren Sapp, Super Bowl MVP Dexter Jackson and Dwight Smith showed up, along with Gruden's agent, Bob LaMonte, who also represents Jason Licht. Former team physician Joseph Diaco was on hand and I spotted Bill Muir over in the corner.
The craggy offensive line coach of the Bucs under Gruden, Muir is now enjoying retirement in the Florida Panhandle. I asked him how he found out about Gruden's shocking dismissal.
"I was driving up I-75," Muir said, "when I got a call from Jon telling me we were all out. I said, 'Stop messing with me.' Jon insisted that he wasn't kidding."
As you can imagine, Muir didn't use the word "messing," but I cleaned it up because this is a family column.
Also in the house at Hooters were Gruden's parents and his wife, Cindy. Jon's oldest son, Deuce, who works for the Redskins as a strength and conditioning coach, was given a one-day reprieve by Jay Gruden and will be at Raymond James Stadium to celebrate the Ring of Honor event.
I left Saturday's party reinforced in my belief that Gruden is seriously considering a return to the sidelines in 2018. There will be plenty of coaching vacancies and the future of Dirk Koetter remains uncertain.
Strain Game
A season-ending six-game losing streak would likely seal Koetter's fate and the scene at RayJay could be surreal tonight with ESPN cameras rolling.
Imagine all the Glazers down on the field while Gruden delivers his brief speech to the crowd. Then imagine loud sustained chants of "We want Jon," just as Koetter is leading the Bucs back on the field for the second half.
In the past week, we heard a lot about an alleged strained relationship at One Buc Place. What cannot be denied is the relationship between Gruden and the Glazers was undoubtedly 'strained' for quite awhile.
How could it not be? You can't fire a coach after consecutive nine-win seasons, including a division title, and not expect outrage. Almost nine years have passed and those days of bitterness are over.
Monday night is about respect, an acknowledgement that Jon Gruden was at the helm when the Bucs ruled the NFL world.
"We did it, Mr. Glazer," Gruden said while embracing Malcolm Glazer after the Bucs routed the Raiders.
Fifteen years later, Gruden may get an opportunity to do it again.