Gameday Tampa Bay!
December 18th, 2017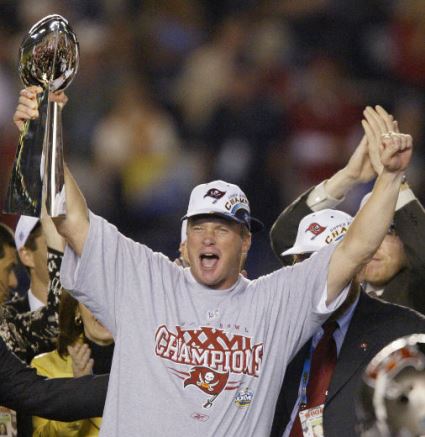 Game 14
Dixie Chicks (8-5) at Bucs (4-9)
Kickoff: 8:30 p.m.

TV: ESPN; DirecTV Ch. 712
Radio: Buccaneers Radio Network (WXTB-FM 97.9 in Tampa-St. Petersburg region); Buccaneers broadcast SiriusXM Channel 83, national broadcast SiriusXM NFL Radio Channel 88.
Weather: Per AccuWeather.com, it will be a pleasant jacket-weather night in Tampa Bay. Tailgaters will start with the temperature in the high-70s and at kickoff look for the temperature to be 67. Of course, it will gradually cool under mostly clear skies to 65 by the end of the game.
Odds: Per FootballLocks.com, Dixie Chicks -6.5.
Outlook: No matter what the outcome of the game, tonight will go down in Bucs lore. The greatest coach in franchise history will rightfully have his name inducted into the Ring of Honor. Yes, the Bucs defense does play better at home. But unless defensive coordinator Mike Smith bites the bullet and either puts Brett Grimes on Julio Jones as a spy or jams Jones at the line with a linebacker (or both), or even does something really novel like double-team Jones, does anyone expect the Bucs to figure out an answer to Jones? If Jones goes all out savage AF as he did against the Bucs last month, and Smith neither puts Grimes on him nor doubles him or tries to jam him at the line, don't think that won't go unnoticed in the owners suite at the Den of Depression. It's not like the Bucs defense is anything close to the Steel Curtain. Add to that the absence of Gerald McCoy and Lavonte David, and that likely will spell "doom." Of course, America's Quarterback, Pro Bowler Jameis Winston, is 3-1 facing the Dixie Chicks. It sure would go a long way to shut up the haters if Jameis can put the team on his back and carry the Bucs to a win. Problem is, this season Jameis has tried to do that too much and it has blown up in his face. The Bucs are a total mess right now and Joe cannot soberly foresee a win. A victory, however, is what Bucs coach Dirk Koetter needs in the worst way.
Trinkets: The Dixie Chicks are 8-0 when scoring 20 or more points in 2017. … Atlanta averages 6.03 yards a play on offense, third in the NFL. … The Dixie Chicks convert 46.4 percent of third downs, best in the league. … Atlanta's defense has allowed only 38 plays of 20-yards or more, third-best in the NFL. … QB Matty Ice has 995 pass yards (331.7 per game) with seven touchdowns and no interceptions in his last three games against the Bucs. … RB Devonta Freeman (drafted after Charles Sims) is looking for this third straight game against the Bucs with 100 yards from scrimmage. In his past seven NFC South games, Freeman has 796 scrimmage yards (113.7 per game) and four touchdowns (three rushing, one receiving). … WR Julio Jones is tied for NFC lead in receiving yards (1,161). … WR Mohamed Sanu has three touchdowns in his last four NFC South games. … LB Vic Beasley has 11.5 sacks and four forced fumbles in his last 11 road games. … LB Deion Jones tied a career-high 13 tackles last week. He also had a pick. He is also one of four players with over 100 tackles (109) and two picks. In two career Monday night games, Jones has 16 tackles and a 90-yard house call. … The Bucs are second in the NFL in "big plays" known as 10-yards or more (197), trailing only the Eagles (204) — but of course, let's get rid of the quarterback, right? The Dixie Chicks are sixth (185). … The Bucs are fourth in the NFL in first downs (282). … Tampa Bay needs 904 yards of offense in the next three games to finish with 5,500. The Bucs have had 5,500 yards of offense the past two seasons. If the Bucs meet that plateau this season, it will mark the first time in franchise history to have at least 5,500 yards from scrimmage three seasons in a row. … QB Jameis Winston has 542 passing yards (271 per game), seven touchdowns and one pick in his past two games against the Dixie Chicks. He has a career 3-1 record over Atlanta. … WR Mike Evans has three touchdowns in his past four home division games. In his last three home games against the Dixie Chicks, Evans has 23 catches for 336 yards (112 per game) and four touchdowns. … WR DeSean Jackson has 690 yards receiving (115 per game) and three touchdowns in his past six Monday night games. … TE O.J. Howard is third among NFL rookies with four touchdown catches. TE Cam Brate has 14 touchdowns since 2016, tied for second-most for tight ends. LB Kwon Alexander has 37 tackles, a pick and a forced fumble in his five career games against Atlanta. … CB Brent Grimes is looking for his third straight home game with a pick. Since 2013, he leads the NFL with 75 passes defended.