Ex-Buc QB Says Jameis Needs Coaching
December 5th, 2017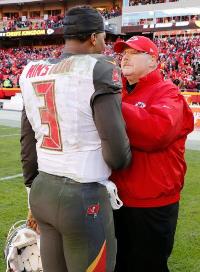 Earlier today, Joe brought you powerful quotes from two ex-Buccaneers who were very critical of Jameis Winston, specifically for his on-field performance
Now, Joe has an ex-Bucs quarterback who is waving a giant flag for America's Quarterback.
The QB is Shane Stafford, who was a preseason roster player for the Bucs, Browns and Belicheats, and he spent several years as the starting QB for the Tampa Bay Storm and Orlando Predators in the Arena League.
Stafford, 41, is now a Storm coach and does private quarterback training.
Speaking to Rock Riley this afternoon on 1040 AM, Stafford said the Bucs absolutely should be all-in on Jameis.
"Not only do I stand behind him, I stand in front of him, too," Stafford said of Jameis.
He said Jameis' issues are "correctable mistakes." And Stafford said Jameis simply needs effective coaching and a better personal approach, adding Jameis needs to relax more.
"I love Jameis," Stafford said. He needs to "allow himself to be coached, allow himself to be human."
**Editor's note, cue the assbags in the comment section who are soon to bark, "Pfft, Stafford, I'm not paying attention to what some Arena guy/NFL camp meat QB says.**