Buccaneers' Crunch-Time Crumble Data
December 7th, 2017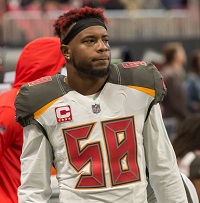 ESPN NFL Matchup continues to pump out intriguing data from their very well paid and highly-respected stats nerds.
Joe likes those guys. They rarely interpret the numbers.
Take a fun one they pumped out this week: The Bucs are NOT among the five worst teams in the NFL at getting their running backs to the second level of the defense. How could that be, Doug Martin lovers/O-line bashers? Sunday's opponent, the Lions are in that dubious bottom five.
But this post is about third-down defense in the fourth quarter, aka crunch time. We already know the Bucs have the worst third-down defense in the NFL. But now we know the Bucs are brutal on third downs specifically in the fourth quarter. They're fifth-worst in the NFL at 44 percent. (See the graphic below).
Want to know what's a killer on that list? But a killer that also brings great hope? Look at the Saints. They allow offenses just 26 percent conversion on third down in the fourth quarter. Remember how brutal the Saints defense was last year?
Dennis Allen has done wonders for New Orleans.