The New Word For The 2018 Bucs
December 20th, 2017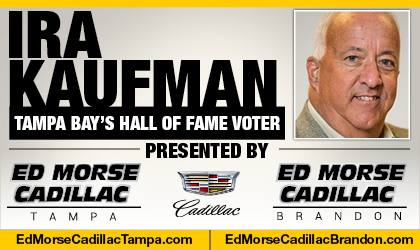 BY IRA KAUFMAN
The good teams in this league make stops. The Bucs make waves.
Whether it's Dirk Koetter, Jon Gruden or Matt Patricia calling the shots next fall, Tampa Bay's offseason priorities remain the same.
Defense, defense, defense.
The Bucs don't win the close games because their defense gets tight when the games get tight. And if Brent Grimes decides 11 years of pro football is enough, Tampa Bay's defensive needs go up another notch.
After Monday night's narrow loss to Atlanta, I spotted a Tampa Bay assistant coach in the locker room. When I said the Bucs have to learn how to win, he corrected me.
"First, Ira, we have to learn how not to lose."
That's sage wisdom and puzzling for Buc fans who remember that this franchise went 3-0 last season in games decided by three points or less. That's how you get to 9-7, generating big expectations.
This year's mark is 1-3. That's how you get to 4-10, generating uncertainty about the head coach's future.
"In our one-score games, we've lost all but one of them," Koetter said. "You've got to win those one-score games … I think that is the nature of the NFL. I have the number upstairs, but it's a higher number than you would think and that's how they want it. They want them all like that. That's what's exciting, but we've just got to come out on the other end of it."
Free agency and the draft can't come soon enough for Buc fans who can't look at this defense any longer. Let us measure the extent of Tampa Bay's hospitality:
* Average yards allowed per snap (6.1) — last.

* Third-down percentage (49) — last.

* Passing yards — last

* Sacks — last

* Total yards — 31st, one yard per game ahead of the Giants.
The defensive issues start up front, especially off the edges. Noah Spence can't stay healthy, Robert Ayers is past his prime and Will Gholston is no factor on the pass rush.
The Bucs are 0-4 within the NFC South, posting only two sacks against elite quarterbacks in the division.
Welcome Signs & Dollar Signs
If you're a decent defensive end considering free agency, the Bucs have a job for you. C'mon down.
Because the Bucs can't muster enough pressure with their four-man front, Mike Smith has been forced to blitz more than he would like, leaving the rest of the defense exposed.
Grimes is particularly valuable going forward because Vernon Hargreaves hasn't emerged as a No. 1 corner. In fact, Hargreaves played with more confidence when he was moved into the slot.
Whether or not Grimes re-signs with the Bucs, cornerback looms as the No. 2 priority behind edge rusher before Tampa Bay addresses its offensive needs.
The word from One Buc Place entering the 2017 season was "explosiveness."
Koetter pined for more yards after the catch, but that hasn't panned out for a variety of reasons.
When this season mercifully concludes, the word should be "physicality." The Bucs simply aren't tough enough in the trenches, and that deficiency is very difficult to overcome.
In the NFL, close isn't nearly good enough. You win or you lose, and these Bucs keep finding themselves on the wrong side of the equation.
Defense, defense, defense.
Ira Kaufman is the most revered sports personality and writer in town. He has hung his hat at JoeBucsFan.com world headquarters since July 2016. Tampa Bay's only Pro Football Hall of Fame voter, Ira busts out columns here every Monday, Wednesday and Friday, and his award winning podcasts fire Tuesdays and Thursdays. You can also see Ira every football Sunday at 10:30 a.m. on FOX-13, Scott Smith's Tailgate Sunday.