Only Two Options At Head Coach
December 27th, 2017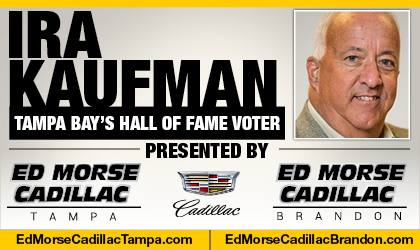 BY IRA KAUFMAN
The walls of One Buc Place are closing in on Dirk Koetter.
The steady drip, drip, drip of reports that Jon Gruden is returning for a second stint in Tampa is taking its toll on a proud second-year head coach.
So how has Koetter responded? With class. With dignity.
What he doesn't do is make excuses. Unlike some of his peers, he doesn't blame officials or carp about injuries. And he never calls out his players.
That's kind of refreshing.
With each Gruden tidbit generated by NFL Network, Koetter's relationship with his players erodes a little more. If Koetter is seen as a short-timer, how is he supposed to motivate his players?
Yet the Bucs sure don't have the look of a team that has quit on its head coach. We know what that looks like around these parts.
After a 4-2 start, the 2011 Bucs simply were not competitive. They didn't hustle and they didn't exhibit any passion during a 10-game losing streak, leaving the Glazers with no choice but to jettison Raheem Morris, one year removed from a 10-6 mark.
If these players want Koetter fired, they have a funny way of showing it. Tampa Bay has suffered three consecutive 3-point setbacks, preceded by an overtime loss at Lambeau.
These Bucs know how to compete, they just don't know how to win.
Crickets & Buzzards
Koetter has to take his fair share of the blame for a 4-11 record. He's the head coach and he's the man in charge.
Overall, the Bucs haven't been a well-coached team in 2017. They stuck with Doug Martin too long, they haven't thrown enough deep balls and clock management has been an issue at times.
But Dirk Koetter doesn't have the horses up front to rush the passer.
That's a personnel issue, not scheme.
On the other side, Tampa Bay's run-blocking wasn't nearly good enough for most of the season. The move of Ali Marpet to center remains a work in progress and the Bucs get pushed around all too often.
Unless Gruden guarantees ownership that he is coming back, firing Koetter would be a mistake.
"When I started this search for a new head coach, the focus was on finding someone that could be a strong leader as well as a consummate teacher, and Dirk is both," GM Jason Licht once said. "He brings the passion and drive that will re-energize our organization and help us establish the winning culture that will help us become the championship-caliber team that our fans deserve."
Two years later, Koetter can't find any assurances his key card will still work in a couple of weeks. Crickets from the Glazers and buzzards circling above.
Only Two Options
Koetter had a bad year, but it's only ONE bad year. Have we forgotten the Bucs went 9-7 in his first season as an NFL head coach?
If Koetter no longer has the confidence of Jameis Winston, he's got to go. He's not going to win that battle, just like Rich McKay had no chance of surviving a showdown with Gruden in 2003.
And although Winston hasn't taken a step forward this season, he hasn't been lousy, either. He's in the process of finishing strong.
If Koetter returns, he'd have to make changes. At the age of 58, he understands that. Andy Reid just gave up the play-calling duties in Kansas City and the Chiefs are surging into the postseason.
"His success with our offense last season, along with his familiarity with our players and our organization makes Dirk the right man to lead our team moving forward," co-chairman Joel Glazer said in promoting Koetter to replace Lovie Smith.
After one bad season, is he now the wrong man?
If Gruden is serious about a comeback, the Glazers have to look at him, although that would be a public acknowledgement they made a colossal mistake in letting him go.
But short of a Chucky return, Koetter deserves another year to prove himself. This team is fighting hard. This team is showing heart. These players are exhibiting toughness.
So is this head coach.
Ira Kaufman is the most revered sports personality and writer in town. He has hung his hat at JoeBucsFan.com world headquarters since July 2016. Tampa Bay's only Pro Football Hall of Fame voter, Ira busts out columns here every Monday, Wednesday and Friday, and his award winning podcasts fire Tuesdays and Thursdays. You can also see Ira every football Sunday at 10:30 a.m. on FOX-13, Scott Smith's Tailgate Sunday.