Blaming Glazers For Aguayo Chatter Escalates
December 23rd, 2017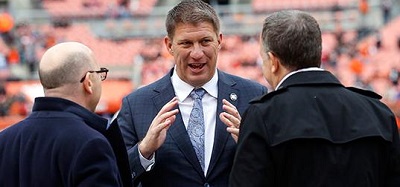 Perhaps the most difficult-to-believe nugget of the summer came from CBS Sports insider Prickly Pete Prisco and beat writer Rick Stroud of the Tampa Bay Times.
Joe has a wild imagination, but even this one was a tough mental stretch.
It revolved around the notion that Team Glazer pushed general manager Jason Licht to draft bust kicker Roberto Aguayo in 2016.
In mid-August of this year, Aguayo had just been cut and Stroud wrote at the time that "though Licht has taken sole responsibility for the decision, it always felt like somebody else put their hand on the scale. Maybe Winston. Maybe the Glazer family. We'll never know."
Very soon after, Prisco Twittered that ownership pushed the pick of Aguayo on Licht.
Joe never bought this nonsense. First, the thought of the three Glazer co-chairmen cornering Licht to trade up and draft a kicker — a kicker — is absurd. It's not like Aguayo was going to sell tickets and the Bucs felt they needed a big FSU name on the roster. And did anyone enter the 2016 offseason saying the Bucs were desperate for a kicker?
Second, Licht was everywhere after that draft telling a personal story of how his wife was stunned by how much Licht was raving about Aguayo after scouting the kicker in person before the draft.
Regardless, Joe viewed Licht as having a much greater backbone, not as a guy who would cave to an owners' whim late in the second round of the draft. It's one thing to have ownership pick a face of the franchise, like choosing between Jameis Winston and Marcus Mariota, or Ndamukong Suh or Gerald McCoy. That's understandable and appropriate. But to let ownership bully you (allegedly) on a late second-round pick obtained through an embarrassing trade up is entirely different.
If Joe were to speculate and buy in to these shenanigans, Joe would say Aguayo was among a few players Team Glazer was high on and Licht was smitten with him, too. The GM was then emboldened by his assessment and the perceived ownership pressure and went for it. Again, that's all hypothetical and Joe simply can't buy it.
Well, now the mysterious game has changed.
Yesterday, Stroud penned a piece about the potential futures of Dirk Koetter and Licht. Four months after his first Aguayo-Glazer innuendo, Stroud made it official.
"It would be unfair to pin the Aguayo mess on Licht, since owners put their hand on the scale. But he has it on his resume," Stroud wrote yesterday.
That's a big leap from "maybe" Team Glazer was pushing Aguayo and forcing Licht's hand. Now Stroud is typing that Licht should be absolved of blame.
The whole thing reeks.
Joe will say this. If ownership really makes demands for second- or third-round draft picks, then the entire pewter pirate ship is out of control and the team is hopeless. Again, Joe's not buying it.