About Julio Jones
December 8th, 2017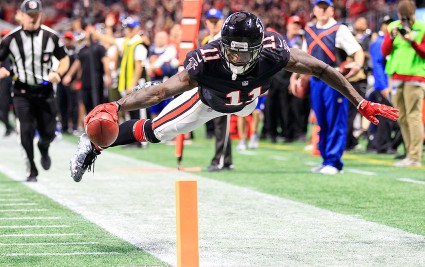 Yeah, the memory of sitting high up in the Mercedes Benz Stadium in downtown Atlanta watching Julio Jones run uncontested through the Bucs secondary as if he had just been sprung from a POW camp is fresh in Joe's mind.
Last night, Joe was bored so he was watching the pregame show of the Saints-Dixie Chicks game on NFL Network. There, a piece was shown on how to stop Jones, the gifted wide receiver of the Dixie Chicks.
Two weeks ago against the Bucs, Jones went bonkers by catching 12 passes for 253 yards and a pair of touchdowns. The next week, the Vikings held Jones to 2 catches for 24 yards.
The difference? Per NFL Network, the Vikings made sure Jones never got a chance to get loose. He was constantly jammed at the line, sometimes doubled, always had a guy in his face.
The Bucs? It was as if Jones had the measles and Bucs defense backs — often Ryan Smith, who regularly was tasked to guard Jones all alone — acted as if they were scared of getting infected. It was a total cluster.
Then last night in Atlanta's narrow win over New Orleans, Joe often saw the Saints being physical with Jones. In the pregame piece, NFL Network analyst Michael Irvin noted the only way to slow Jones was to be in his face and make sure he doesn't get a head start off the line of scrimmage.
Joe didn't recall that being one of the 14 types of coverages Dirk Koetter stated the Bucs tried to employ on Jones.