54 Yards From History
December 26th, 2017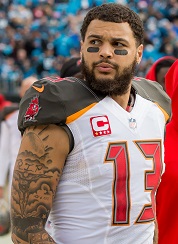 Another rough season in the books for Mike Evans — and another one that will look great on paper.
After his first 100-yard game of the year Sunday, Evans now has 66 receptions for 946 yards this season.
With 54 more yards against the Saints on Sunday, Evans will record 1,000 yards receiving in his fourth consecutive season to start his career. Only two other receivers in NFL history have done that, Randy Moss (1998-2001) and A.J. Green (2011-2014).
Evans has 32 touchdowns during that span. Green had 35. Moss, well, he'll be a first-ballot Hall of Fame inductee in six weeks. Moss had 53 touchdowns in his first four monster seasons.
As for Evans, his goal to improve yards after the catch fizzled this season. He also got suspended one game for a cheap shot, and he evolved into a target for officials who clearly are eager to flag him for pushing off defensive backs. His touchdown numbers are way down, and overall, he just hasn't looked as good as he did last year.
But still, there is Evans, having a "bad" season with 1,000 yards receiving.
It just speaks to how darn talented and durable Evans is. And at 24 years old, his best should be ahead of him.