"There's Nothing To Save"
November 30th, 2017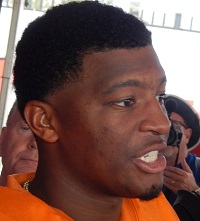 Should the Buccaneers sit down America's Quarterback, Jameis Winston, (and other key banged up Buccaneers) for the rest of the season with a goal of preserving careers, evaluating backup players and helping draft position?
Jameis was asked about that today, more specifically about fans who are pounding their desks wanting Jameis shut down and protected for the final five games of this season.
Relaxed and calmly, Jameis said that's not a consideration that fits him.
"God blessed me to be able to play quarterback. So, me sitting out when I'm able to play is not even on my mind about saving. There's nothing to save," Jameis said.
Offensive coordinator/receivers coach Todd Monken was asked a similar question about sitting Jameis and Monken said how many games remain is always a consideration in a decision like that.
Joe will say this, any decision to sit/protect Jameis or any other key player for five games, when doctors have cleared him to play, is an ownership decision. That's not something a coach or a GM does with out ownership agreeing. Or, more likely, if that does ever happen, it's ownership prompting the move.
Dirk Koetter is not paid to worry about draft position, nor should he be.