Put The Blame In The Right Place
November 29th, 2017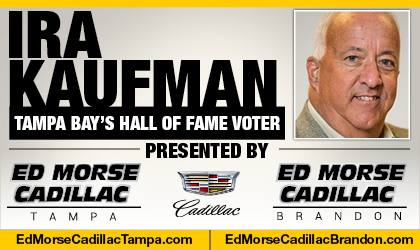 BY IRA KAUFMAN
Let's not pin this all on little Ryan Smith.
It was Smith's misfortune to be matched up often against Julio Jones Sunday in Atlanta, where one of the NFL's premier wide receivers torched the Bucs all afternoon.
Why Tampa Bay didn't assign Brent Grimes to shadow Jones remains a mystery, but the truth is that even a cornerback as skilled and mentally tough as Grimes would have struggled to keep up with the Joneses.
Yes, we're talking about the pass rush.
Again.
Tampa Bay's defensive woes start with a lack of pressure up front, so let's not pretend this defense can be fixed by adding another corner or safety.
The Bucs desperately need nasty, talented defensive linemen who spend the offseason thinking about how to put Drew Brees, Matt Ryan and Cam Newton on the ground. You need proof?
The Jaguars lead the NFL in scoring defense and total defense. That's not fake news, that's a fact. They also lead the league with 41 sacks.
That's no coincidence.
The key stat in determining the efficiency of your pass defense is how many yards you allow per pass attempt. Tampa Bay opponents average 8.1 yards, the second-most in the NFL next to Indianapolis at 8.2. The Bucs also rank next-to-last to the Colts by allowing 43 completions of at least 20 yards. And as Buc fans know all too well, Tampa Bay's 15 sacks rank dead last.
Extra Drive Every Week
Again, no coincidence.
"Yeah, I can say we've got to get more pressure on the quarterback," Dirk Koetter said on the day after Ryan and Jones played pitch and catch. "Well, we blitzed 22 (times) yesterday with either five or six rushers. When we brought six, we always had them out-numbered by one, and he got the ball out of his hands."
When the Buc defense was feared, Tampa Bay relied on a four-man rush to make quarterbacks uncomfortable. Monte Kiffin didn't have to commit additional resources, allowing the back-7 to spread out and cover more ground.
That's not the case for beleaguered Mike Smith.
Think of it this way: the defenses of the Bucs and Vikings have each faced an average of 36 passes per game. Blessed with a solid pass rush, Minnesota is yielding an average of 70 less passing yards per game compared to Tampa Bay.
That's the equivalent of one less long drive every Sunday.
Even an outstanding secondary can't overcome a lousy pass rush.
Hunting Party
The 1988 Chiefs started Albert Lewis and Kevin Ross at corner and Deron Cherry and Lloyd Burruss at safety. Lewis and Cherry both made the Pro Bowl that year while Ross and Burruss were considered well above average.
Kansas City finished 4-11-1. The culprit? Lousy pass rush.
Sacks are drive-killers, or at least they should be. At this point in a lost season, Buc fans would take an uptick in quarterback pressures. If you can't put Brett Hundley on the turf at Lambeau Field, at least make the guy sweat.
The draft is five months away and Tampa Bay's priorities are clear.
It's time to organize a hunting party.
Ira Kaufman is the most beloved, revered and esteemed Buccaneers columnist in town. He has hung his hat at JoeBucsFan.com world headquarters since July 2016. Tampa Bay's only Pro Football Hall of Fame voter, Ira busts out columns here every Monday, Wednesday and Friday, and his award winning podcasts fire Tuesdays and Thursdays. You can also see Ira every football Sunday at 10:30 a.m. on FOX-13, Scott Smith's Tailgate Sunday.