And The National Pile On Continues
November 7th, 2017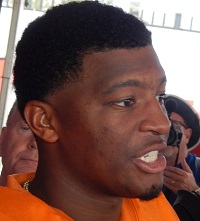 Is America's Quarterback, Jameis Winston, simply a 23-year-old franchise QB with a bad shoulder on a team with no defense or rushing attack?
Oh, no! No, no, no. The national sharks smell blood in the water.
Hell, for two full days this winter, Jameis was hammered by BSPN and CNN because he allegedly slighted girls in one sentence during a long, inspirational speech to school children.
Jameis moronically came on the field Sunday with no helmet and done for the day injured and poked Saints cornerback Marshon Lattimore in the head-neck area. It was stupid. But man, he is getting creamed.
National radio voices Dan Patrick and Clay Travis are blaming the collapse of the Bucs on Jameis completely over the past two days. Joe has offered other examples, including Tony Gonzalez chatter and Gomer Pyle labeling from FS1.
Check out this BSPN video below with highly respected former NFL personnel man Louis Riddick and other spouting off.
Joe's not defending Jameis' dumb move, but man, things are getting a little out of control out there. Perhaps now more of you understand why Joe calls Jameis "America's Quarterback," part of that includes the nation ready to bury the guy any good chance they get.