Matty Ice Couldn't Believe It
November 27th, 2017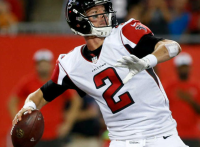 Matty Ice is nothing if not PC. So Joe almost has to wonder if Matty Ice, without being aware of it, was mocking his former coach Mike Smith.
The Bucs defensive coordinator was once upon a time Atlanta's head coach and he also coached Matty Ice from the day he was drafted. But Smith's former star quarterback tossed indirect barbs Smith's way in his postgame presser Sunday.
Talking about Julio Jones roasting the Bucs, Matty Ice had this to say about the Bucs' defense.
"I thought today was perfect," Matty Ice said. "I thought when we got the opportunities and [Jones] was singled up, we did. We were aggressive and went to him. It's not often that we get that many single opportunities a game, but we got that today. I think historically, we have done that. When he's gotten a single matchup, he's been incredibly explosive. I thought Steve Sarkisian did a really nice job with us. We do make an effort to try and find ways to get [Jones] going because he's so special. Today was one of the days that he went off."
Doesn't this make you want to shove your head in a toilet? Dixie Chicks coaches seemed to have a game plan and crafted different ways to get Jones in mismatches and get open.
Yet Smith didn't change much if anything, if you believe Matty Ice's words.