Koetter Answers Question About "Soft" Defense
November 4th, 2017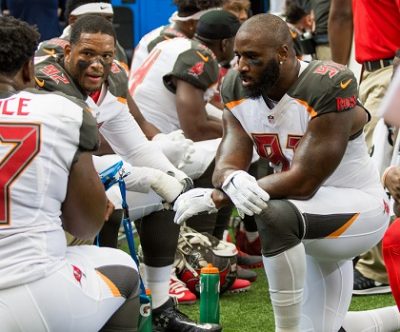 Joe would love to see media news conferences with Dirk Koetter at One Buc Palace abolished in favor of lining up 10 hardcore fans to ask one question each every week.
First, it would be far more entertaining, and second, the questions would be much better.
What a win-win it could be. Team Glazer really needs to start thinking out of the box on this kind of stuff. Innovation shouldn't all fall in Joe's lap.
On that note, here's a Coach-fan verbatim exchange on the Buccaneers Radio Network yesterday. Fan "Howie" wants to know why he's seen Bucs cornerbacks play softer than Jell-O.
Howie: I was curious. Last week I noticed it was better, but previous weeks it seemed is if our defense was playing kind of soft. It would be 3rd-and-3, 3rd-and-4 and they're seven, eight yards off the receiver on the end. Is there going to be adjustments on that? Or is there a reason, you know, something that causes that?

Dirk Koetter: No. We definitely need to be, one of the things Coach Smith and the defensive coaches have been preaching is awareness of the sticks on third down, awareness of where the chains are and knowing what we have to defend. That's one of things we've been trying to work on. As you know, a lot of these same guys, we were the No. 1 team in the league on third down last year. But we just haven't been able to quite hit our stride yet this year.
It makes Joe queasy to hear Koetter say the Bucs are trying to work on "awareness of the sticks." That should be second nature for all defensive players long before they leave college.
Like Koetter said, the Bucs had third-down defense mastered last season. Now they stink at it.
Even last Sunday against Carolina, the Panthers were a whopping 8-of-17 on third-down conversions. Overall, the Bucs are last in the NFL at third-down defense, allowing opposing offenses to convert 49 percent of the time.