Dwight Freeney Cut; Will Bucs Claim?
November 21st, 2017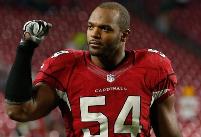 The Seahawks cut loose 37-year-old, seven-time Pro Bowler Dwight Freeney today, a guy who possibly is better than one of the Buccaneers' defensive ends.
Freeney had three sacks in four games after Seattle pulled him off the street last month. He played 27 percent of the defensive snaps last night in the Seahawks' tough loss to the Falcons.
So what will general manager Jason Licht do?
Might Licht put in a claim for Freeney and see if he can find his old magic down the stretch, as he tries to add a few sacks to what might be a Hall of Fame career? (Yes, "might be." Freeney wasn't necessarily better than Simeon Rice or even John Abraham.)
Joe would love to see the Bucs add a situational pass rusher like Freeney. Maybe he brings a spark, not just in his own play but to others' performance. In case you haven't noticed, the Bucs' edge rush is lacking (what edge rush?).
Sorry, but Joe's not worried about Will Clarke missing out on valuable snaps.