Jameis At Heart Of Dirk Koetter's Future
November 6th, 2017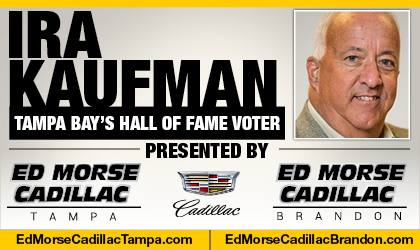 Ira Kaufman is the most beloved, revered and esteemed Buccaneers columnist in town. He has hung his hat at JoeBucsFan.com world headquarters since July 2016. Tampa Bay's only Pro Football Hall of Fame voter, Ira busts out columns here every Monday, Wednesday and Friday, and his award winning podcasts fire Tuesdays and Thursdays. You can also see Ira every football Sunday at 10:30 a.m. on FOX-13, Scott Smith's Tailgate Sunday.
BY IRA KAUFMAN
These are the hardest knocks Jameis Winston has ever experienced as a football player.
You can see it in his face and you can hear it in his voice as he tries to explain this train wreck of a season.
Some fans, maybe more than a few, are turning on Winston in his hour of despair, suggesting the Bucs should draft a quarterback with a first-round pick that now looks like Top-5 material.
Let's get real. Winston isn't going anywhere — except to a meeting with the Glazers to discuss Dirk Koetter's future. Despite his struggles, Winston remains the primary reason to believe this franchise can reward its frustrated fan base with some dynamic football in the future.
Unfortunately, that future isn't now, and Winston must take his fair share of the blame.
"I've got to do my job better," he says. "I'm not doing good enough."
Can't argue with you there, No. 3.
Instead of elevating his game with a better supporting cast, Winston has regressed in 2017. Even before he hurt his right shoulder in Arizona, Winston wasn't playing good enough. More specifically, he still can't connect downfield. Through eight starts, he has only two completions of 40 yards or more.
Two.
Relationship Will Be Everything
Jacoby Brissett has six. C. J. Beathard has three. Anybody calling either of those two working stiffs a franchise quarterback?
Winston has the same number of deep connections as Mitch Trubisky and Kevin Hogan — and I don't see a DeSean Jackson on Chicago or Cleveland.
"I don't think I'm doing a good job to put our offense in position to score," Winston says. "I'm not playing good enough."
Koetter's relationship with Winston is at the heart of the matter for the Glazers. They waited two decades to land a potential star under center and they're not going to walk away from the No. 1 overall pick in the 2015 draft.
They still believe in Winston, so the question is simple: does Winston still believe in Koetter? If ownership decides Koetter isn't the right man to develop Winston, he's gone.
One of Koetter's major issues right now is his offense looked a lot better when he was a coordinator, setting a franchise record for yards during Winston's rookie season.
Since Koetter ascended to head coach, Tampa Bay's ground game has lost its spark, topping the 100-yard mark only nine times in 24 games. In 2015, the Bucs ran for at least 100 yards 12 times.
Ground Zero
That lack of complementary football has hurt Winston's production, but he hasn't helped himself with poor decisions and inaccurate throws.
The Glazers have hard decisions to make about a football team that is glaringly soft. Both lines need a serious upgrade and this secondary isn't nearly good enough.
Although he hasn't stepped up, Winston isn't stepping out. Even if he sits out the rest of the season, his take on the locker room and the executive suite will have a major impact on ownership.
When his day was done on Sunday in New Orleans, Winston turned instigator, triggering an ugly sideline incident. It won't be the last time he'll find himself in the middle of some upheaval around these parts.