Bad Blitzing
November 18th, 2017
Hey, it is cool to blitz. And Lord knows Bucs defensive coordinator Mike Smith has tried.
But for whatever reason, blitzers could not get to quarterbacks in the first half of the season. Whether they get caught up in the scrum of line play or they are too slow on the edge, the Bucs just weren't getting the job done with blitzing before the Jets game.
BSPN NFL Matchup numbercrunchers have the data and they show the Bucs don't often get to the quarterback on blitzes. In fact, less than a third of Bucs blitzes result in a quarterback pressure. Yes, that's bad. Not the worst in the NFL, but bad.
Figuring out a way to get more production from blitzes would sure help the toothless pass rush (what edge rush?).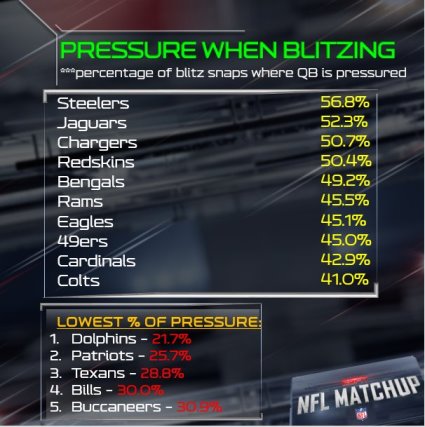 If you missed it, Derrick Brooks addressed Bucs blitzing this week.