With The 10th Pick In The 2018 NFL Draft …
November 28th, 2017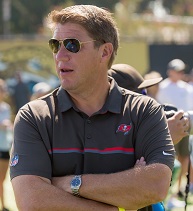 Your Buccaneers have a lot to play for, jobs, pride, fans, somehow emerging from the NFC South basement — and a miracle playoff berth if you're a savage optimist.
But there's also something else.
Next year.
Lots of fans believe in tanking a season once it's toast in order to pave the way for a better draft pick. Empty the bench, evaluate, fight hard and lose, they desire.
As draft guru Charlie Campbell of WalterFootball.com notes, the Bucs would hold the No. 10 overall pick in the 2018 NFL Draft if the season ended today.
That's the fourth best position in the NFC, behind the 49ers, Giants and Bears.
Ahh, draft talk in November. Ugh.
And no, the Bucs have no plans on worrying about next year's draft. They need/want to eat Ws now.
About that draft, all that's clear is the Bucs will have no use for a receiver, a tight end, a left tackle or a linebacker in the first round. Every other position is on the table as of today. Yes, on Nov. 28, there's uncertainty at quarterback because of the looming NFL investigation of the face of the franchise.