That's All, Folks!
October 7th, 2017
Podcast: Play in new window | Download | Embed
Subscribe: RSS
No, the headline doesn't mean the most impactful Bucs podcast is going away. Don't be stupid. Host Justin Pawlowski of Bucs Uncensored is firing away on this Saturday edition. Send in your Bucs take. Just email a 90-second-or-less audio blast to BucsUncensored@gmail.com.
A former voice on the Buccaneers Radio Network, an ex-college football player and a lifelong Bucs fan, Pawlowski has the most popular Bucs podcast in the land.
On Mondays, Wednesdays and Saturdays, Bucs Uncensored unifies Tampa Bay fans (Stick Carriers!) in every corner of the universe. Listen above or subscribe on iTunes right here, or at Podbean.com. Justin's work is not influenced by JoeBucsFan.com. Joe just thinks it's very, very, very special. **CAUTION: some R-RATED language!*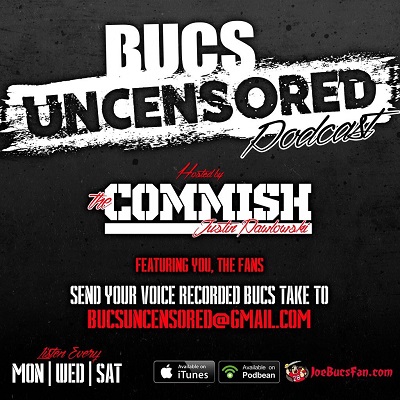 PRESENTED BY