Stop The Trade DeSean Jackson Nonsense
October 31st, 2017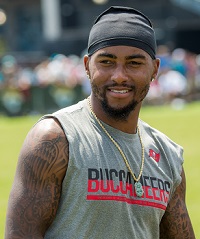 Joe hears the bloviating by the local sports radio hosts this week to trade DeSean Jackson by this afternoon's trade deadline, and lots of fans are jumping on the bandwagon.
Joe can't make this more clear. It would be a remarkably stupid move.
Jackson represents what was missing from the Bucs' offense for years, and he's an excellent and healthy football player. And people want to trade him?
Has the world gone mad?
If general manager Jason Licht trades Jackson, then he might as well find a new team to lead next season, unless Jackson somehow wants out of Tampa.
There's no way Dirk Koetter wants Jackson out, and America's Quarterback, Jameis Winston, certainly wants Jackson on his team. And Jackson is playing well and his speed is evident.
Heck, Joe will even project that if the Bucs have a new head coach next year, then he would want Jackson here, too.
Depth was a massive issue for Tampa Bay the past two seasons, and it likely cost them a playoff berth in 2016. Why the heck anyone would want to give that up goes way beyond Joe's mental capabilities.