Running Game Mysteries
October 20th, 2017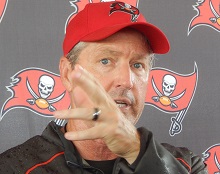 The Bucs' edge rush issues and the eye-singeing play of Vernon Hargreaves have been a great distraction for the mysteries in the Tampa Bay rushing attack.
Here's a few pieces of meat to chew on:
1) Where's Peyton Barber? Dude looked good and powerful on opening day, yet he has just two carries since.
2) Jacquizz Rodgers was given a game ball by coaches for his powerful effort against the Giants, 16 carries for 83 yards, yet he's been neutered with just six carries in the next two games, both losses.
3) Doug Martin, with fresh legs, and a strong game and practices under his belt, opened up Sunday's effort in Arizona with nine carries for 16 yards. You can't blame that all on Martin, but he made some bad decisions during that early run. And he's got three drops in two games as Team Glazer pays him about $440,000 per game.
What exactly is the answer here?
The Tampa Bay offensive line is completely healthy. Fans were told Ali Marpet moving to center and adding nasty J.R. Sweezy to his right would mean much more mauling by the line, along with a blocking-mature O.J. Howard. Also, the Bucs' mighty weapons on the outside should be softening up the run defenses.
Joe's not looking to assign blame in this post, but winning head coach Dirk Koetter needs to figure out something quickly — before the Bucs enter another draft (again) desperate for an A-list running back.