A Run Game Would Help
October 28th, 2017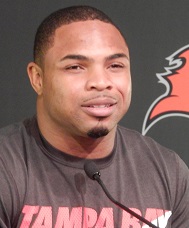 You may have read on this here website already that the Bucs have the No. 1 passing offense in the NFL, tossing the pigskin for an average of 312.3 yards a game.
(Joe never dreamed he would ever type the previous paragraph.)
The Bucs running game? Well, that's another matter.
The Bucs stink at running the ball. They are currently ranked No. 30 in the NFL averaging a paltry 80 yards a game. Worse, the rushing attack in the red zone is pitiful.
Per data-driven, limousine-ridin', jet-flyin', kiss-stealin', data-analyzin', Bucs-film-studyin' Thomas Bassinger of the Tampa Bay Times, the Bucs are just downright rank when it comes to running the ball in the red zone.
@tometrics: #Bucs are averaging 1.72 yards per carry in the red zone, which ranks 25th.
And without doing a deep-dive into stats, which would take Joe hours, since the Bucs have the No. 1 passing offense in the league, it's safe to assume the Bucs have had plenty of rushing attempts in the red zone given the fact they are moving the ball downfield, through the air.
It sure would help if the Bucs could somehow wave a magic wand and get a reliable run game going.