Plan Is For Jameis To Throw Today
October 19th, 2017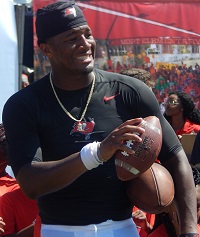 UPDATED: 1:32 p.m. – Great news from One Buc Palace.
Only the mentally challenged and the Ryan Fitzpatrick family would prefer to see America's Quarterback, Jameis Winston, on the sidelines Sunday. Throw Tampa Bay Times columnist Tom Jones in that mix, so he said on WDAE-AM 620 today.
The rest of us want to see Jameis on the field. If the doctors say he can play with his sprained AC joint without risking injury, then put him in the game. Jameis battling some pain — queue the painkillers — and at, say, 80 percent, is the best option.
And with the Bucs at 2-3 and alone in the NFC South cellar, there's no wiggle room.
Per Bucs offensive coordinator Todd Monken, Jameis will throw today in practice. He did not yesterday.
Fingers crossed, folks.
UPDATED: Jameis made some throws during the practice window open to media.