Koetter Talks Hargreaves Demotion, Production
October 23rd, 2017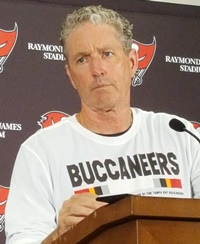 Yes, cornerback Vernon Hargreaves, the No. 11 overall pick last year, was dropped yesterday from starting outside cornerback to nickel corner, an important but part-time position.
It was a stunner, considering Hargreaves is just 22 years old and nobody of sound mind drafts nickel corners that early in the NFL Draft.
On the flip side, it was not a stunner because Hargreaves was playing very poorly through the first five games of the season, and was not heeding coaches' offseason orders and ongoing emphasis to be more aggressive.
Today, Koetter said he liked overall how veteran Robert McClain played outside cornerback in place of Hargreaves yesterday, and he said Hargreaves took a good first step by playing better at nickel than he had on the outside.
Koetter reiterated what he said immediately following the crushing loss in Buffalo: Hargreaves' possible return outside corner would depend on injuries, and Koetter shared that McClain is now in the NFL concussion protocol.
That's about as lukewarm as it gets for Hargreaves, who was drafted to be a ballhawk, shutdown corner.
It continues to feel as if the Bucs have thrown in the towel on him, and that looks really bad for general manager Jason Licht.