Koetter: O.J. Howard = Marcedes Lewis
October 31st, 2017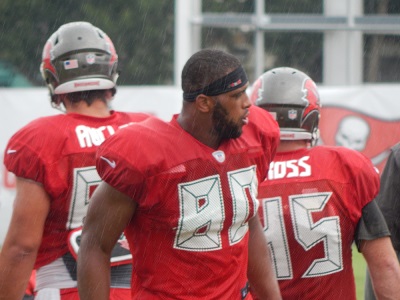 Once upon a time, formerly winning Bucs head coach Dirk Koetter compared the skills Austin Seferian-Jackwagon to Tony Gonzalez.
That had Bucs fans all excited until they realized ASJ was more interested in partying.
Koetter served up another tight end comparison recently on the Buccaneers Radio Network, when asked about first-round pick O.J. Howard.
Joe was at the edge of his seat hoping Koetter would pick Gonzalez again, as the former Chiefs and Falcons tight end is a certain first-ballot Hall of Famer. But instead, Koetter picked Jaguars tight end Marcedes Lewis.
"And I say that in a complimentary way," Koetter added, seemingly aware that the comparison might be seen as something other than great praise. "He can block, he can catch, he can run."
Koetter noted he doesn't know how much people value Lewis, a Jags first-round pick in 2006, but he did as a coach.
From 2007 to 2011, Koetter was Jaguars offensive coordinator and Lewis had his best season in 2010, 58 catches for 700 yards and 10 touchdowns. Lewis, though, hasn't done much of note outside of that one season in his 12-year career.
Joe sure would have felt better if Howard got the Gonzalez comparison.