"I'm Going To Count On Them Til The Day I Die"
October 22nd, 2017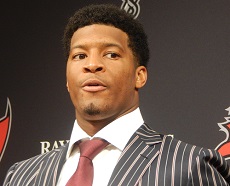 Ask America's Quarterback, Jameis Winston, a question about his shoulder and you'll get a strange response.
After today's game, on the second question of his postgame news conference, Jameis was asked how his injured shoulder feels. "It's tough to lose," Jameis replied, which was his same answer to the initial general question sent his way during the same media session.
Yes, Jameis, it's tough to lose. Nothing else matters. We get it, chatting with media after a loss is an annoying exercise, part of feeding passionate fans what they crave.
Jameis isn't always orthodox in his approach with media. On Friday, he fired a football at a crowd of working media covering practice, a ball that hit Rock Riley (@realrockriley) in the arm. Last year, visibly annoyed by media questions about his ankle, Jameis waited until news conference cameras ended and then did a dance and directed an agitated retort to a reporter.
Jameis, however, did not show a shred of frustration about the Bucs' ugly defense after today's game. He was composed and professional. Jameis said they'll get it fixed and added his career-long support.
"I'm going to count on them til the day I die," Jameis said of the defense.
Back in the glory years of Bucs football, the Tampa Bay defense grew openly frustrated with the offense because it was so inept game after game, year after year. The 2016 Bucs defense carried the team through its heroic five-game winning streak last season, but it's since fallen apart.
It's tough for all fans, including Joe, to deal with these back-to-back crushing losses. But it is at least a little good to see Jameis saying the right things about the rest of the team when he's dealing with extreme stress.