Good Jameis Returns
October 1st, 2017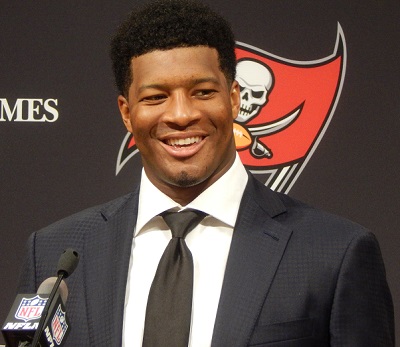 Perhaps the greatest news from the Bucs jumping to a 2-1 record tonight was The Franchise playing like a true No. 1 overall pick and a smart and talented quarterback.
America's Quarterback, Jameis Winston, protected the football and beat back the haters in a huge way in the thrilling 25-23 win against the Giants.
Three touchdowns, no interceptions, loads of good decisions — including a true throwaway under duress! — and command of the offense while spraying the ball around to lots of targets while averaging a whopping 15 yards per completion — Jameis had a heck of a day.
Yeah, the Giants defense isn't collectively special this year, but they do have talent. But Jameis was simply better.
He's certainly not perfect. There was one dumb throw that could have been picked by a defensive linemen, and he's misfiring badly with DeSean Jackson, a malady Dirk Koetter said is on Jameis.
But the big picture was strong today, and Jameis put another fourth-quarter comeback on his resumé. And he found a way to start fast, with two first-quarter touchdowns on 5-of-6 throwing.
Good Jameis is back!