"I Fully Expect That Jameis Takes All The Snaps"
October 19th, 2017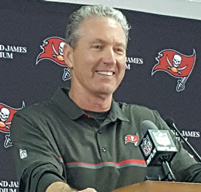 Joe has been completely flummoxed and almost shocked at the buffoonery that has been peddled on sports radio and Twitter today by the local media.
Joe wants what some of these guys are ingesting.
Look, the Bucs didn't sign a quarterback this week. Hello! Hello! That means America's Quarterback, Jameis Winston, is ready to play on Sunday.
Hello! Hello!
There are only two QBs on the Bucs' roster and no NFL team in its right mind would go into a game with an injured and unavailable QB as it's No. 2.
Yeah, Joe, but if Jameis isn't ready to start, he could be the backup. Wrong!!! If Jameis is the No. 2 QB on Sunday, then he has to be ready to play the whole game, especially when the starter would be a 35-year-old like Ryan Fitzpatrick.
No front office in the NFL dumb enough to have just one QB healthy — certainly not Jason Licht — and if Jameis is healthy enough to be a backup, then he belongs on the field. Period. If he can play, then he plays. If not, sign a backup.
Today, Jameis didn't throw much at practice, one throw per Koetter, but Koetter said, "I fully expect that Jameis takes all the snaps tomorrow." Tampa Bay Times columnist Tom Jones was calling on sports radio this morning for Jameis to sit on Sunday. Beat writer Rick Stroud Twittered this afternoon about Jameis, "I don't see how or why Winston will play vs. Bills." WDAE-AM 620 host J.P. Peterson was calling this afternoon for Jameis to be benched Sunday so he can rest, heal and learn.
Jiminy freakin' Christmas! This is the freakin' National Football League.
The Bucs told everyone on Monday that team doctors game a thumbs-up on Jameis' MRI after his shoulder sprain on Sunday. Jameis is healthy, the Bucs said, but the team would have to monitor him to see how effective he could be.
That was a giant green light, in addition to not signing a QB, in addition to today's revelation, in addition to Jameis throwing one pass at practice. (If his arm was bad, doctors wouldn't have signed off an a throw.)
Joe is fired up to see Jameis right this off-course pirate ship on Sunday.