"Flat-Out Lie"
October 16th, 2017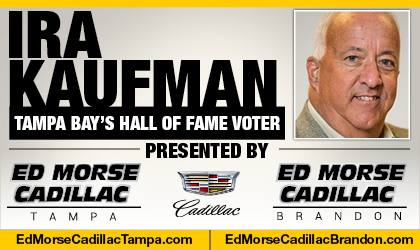 Ira Kaufman is the most beloved, revered and esteemed Buccaneers columnist in town. He has hung his hat at JoeBucsFan.com world headquarters since July 2016. Tampa Bay's only Pro Football Hall of Fame voter, Ira busts out columns here every Monday, Wednesday and Friday, and his award winning podcasts fire Tuesdays and Thursdays. You can also see Ira every football Sunday at 10:30 a.m. on FOX-13, Scott Smith's Tailgate Sunday.
BY IRA KAUFMAN
Flat, flat, flat. Simple as that.
If only the 2017 Bucs could be summed up in a nursery rhyme. Let's try another:
If you're flat and you know it, miss a tackle
If you're flat and you know it, miss a tackle
If you're flat and you know it and you really want to show it
If you're flat and you know it, blow a coverage.
Gerald McCoy, Lavonte David and Brent Grimes all used the word "flat" to describe Tampa Bay's performance at the outset of Sunday's matchup.
How do think that particular adjective is going over with the Glazer family today?
Buc defenders could have said they were off their keys. They could have said the Cardinals threw some new wrinkles at them. Heck, they could have blamed lousy beds at the team hotel.
But no, they said they were flat. That may be the most chilling word in the NFL lexicon.
The dictionary tells us that flat translates to: lacking interest or emotion; dull or lifeless. Common synonyms are: boring, dull, tedious, uninvolving.
After five games, that's a description that should keep Dirk Koetter up at night. The Glazers have to be wondering how it ever got to this point.
"We've got to be ready to play," said Grimes. "We just weren't ready to play. You don't ever want to put something like that on film."
That film should be rated "R" for reprehensible.
Misguided McCoy
McCoy said Arizona showed nothing different than the Bucs anticipated. In other words, Tampa Bay wasn't out-schemed.
There was a time not so long ago when the Bucs simply didn't have enough talent to compete. Haven't we moved on from there?
You'd never know it from their second desert debacle in as many years.
"Terrible start," David said. "Got to have a better sense of urgency."
The worst aspects of Sunday's ass-whipping are the questions it raises about the team's preparation. Buc players looked like they treated this matchup like an exhibition game, not an opportunity to pick up ground on the NFC South leaders.
"We've hurt ourselves way too much," said McCoy. "We're 2-3 and we could easily be 5-0."
C'mon, man. What games are you watching?
Approaching A Franchise Record
I haven't mentioned Mike Smith's name yet, but I've saved the worst for last.
Tampa Bay's defense is yielding an average of 24 points and 403 yards. No Buc team has ever finished a season allowing 403 yards per game. That includes the twin 2-14 clubs coached by Leeman Bennett in the mid-1980s and Lovie Smith's 2-14 comedy of errors in 2014.
Opponents are converting 46 percent of their third-down attempts. Passers are completing throws at a 70.9 percent clip.
Are you kidding me?
So far this season, the Bucs have faced Mike Glennon, Case Keenum, Eli Manning, Tom Brady and Carson Palmer. Except for Brady, that's not exactly Murderer's Row.
Dead ahead are Cam Newton (twice), Drew Brees (twice), Matt Ryan (twice) and Matt Stafford.
Oh my.
Tampa Bay is last in the league with six sacks. That's not just flat … that's flat-lined. Opposing QBs have a combined 104.0 passer rating. And now for the most telling stat of all — average yards per pass attempt.
The Buc defense ranks last in the NFC, allowing 8.2 yards per throw.
A year ago, Smith's group sparked Tampa Bay's second-half charge after a bye week. The Bucs battered Russell Wilson, Alex Smith and Brees into submission, giving their supporters confidence this would be a defense to be reckoned with.
Turns out that was a flat-out lie.