Five Bucs Who Should Be Shopped Before Tuesday's Trade Deadline
October 30th, 2017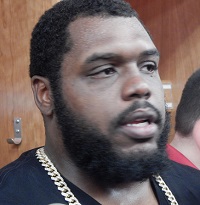 The state of the Bucs and their deplorable 2-5 record can be interpreted many ways, but there is an absolute that could be — and likely should be — addressed before Tuesday's trade deadline.
We all knew the Bucs had an M.I.A. pass rush entering yesterday's game against the Panthers, but somehow it hit rock freakin' bottom.
Cam Newton attempted 32 passes and the Bucs didn't register one quarterback hit.
Tampa Bay has just two sacks from defensive ends all season, and the team has a paltry seven sacks through seven games, worst in the NFL. The Bucs are desperate for live bodies on the defensive line, and Joe would love to see the Bucs attack that immediately. Take a chance before you are handcuffed in next year's free agency and draft.
Here are five guys Joe believes the Bucs should be shopping for any kind of defensive line help by tomorrow's trade deadline:
Evan Smith – The 31-year-old versatile guard/center is sharing snaps at left guard with Kevin Pamphile. Both guys are in contract years and the platoon makes little sense at this point in the season. There's a scarcity of solid offensive linemen around the NFL, and perhaps a needy team has a buried defensive line prospect they'd cough up for Smith.
Doug Martin – Whatever you think of Martin, his NFL shelf life is nearing its expiration date. He's not the player he was in 2015, and he turns 29 in January with nearly 1,100 NFL carries on his tires right now. Maybe there's a GM out there who is a secret Martin fanboy and would part with a legitimate defensive lineman. Martin's massive contract likely stands in the way of any trade. But maybe there's a swap out there for an equally expensive D-lineman to take off someone's hands.
Joe Hawley – Hey, if nobody wants Smith, then moving Hawley is just as good. He's healthy and has put back the weight he lost last year, good weight. There's little point to having Hawley, a Dirk Koetter favorite, around at this point in the season.
T.J. Ward – Does anyone believe the three-time Pro Bowl safety will be here next season? Please. He's got the pedigree to garner attention on the market, and after Ward's public moaning this month, Joe can't imagine Ward would be missed — or be sad to depart.
Chris Baker – Turn on the film and you'll see a second rate football player with a big contract.