Dirk Koetter, Man Of Faith With Brass Balls
October 2nd, 2017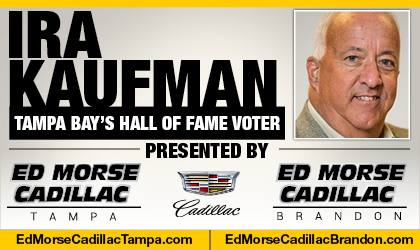 Ira Kaufman is the most beloved, revered and esteemed Buccaneers columnist in town. He has hung his hat at JoeBucsFan.com world headquarters since July 2016. Tampa Bay's only Pro Football Hall of Fame voter, Ira busts out columns here every Monday, Wednesday and Friday, and his award winning podcasts fire Tuesdays and Thursdays. You can also see Ira every football Sunday at 10:30 a.m. on FOX-13, Scott Smith's Tailgate Sunday.
BY IRA KAUFMAN
There's plenty of time remaining this week to break down Thursday night's matchup with the Patriots, so let's return to the biggest takeaway from the Giants game.
Dirk Koetter has brass balls.
How many men in this league with only 18 previous games of experience as a head coach have the cojones to put the game in the hands and feet of a kicker enduring a miserable day?
In the biggest decision of his fledgling career at the top of the Buc food chain, Koetter just proved that he really does believe in this group.
"Coach just said we are going to win or lose with this guy," said Luke Stocker. "What coach was saying was that we trust Nick Folk to bounce back. You're supposed to have players you believe in. You've got to love a coach like that."
Let's put this one in perspective.
Every week in the NFL, it's not unusual to see teams trailing by a point late in the game decide to let the clock run down once they are in sure field-goal range. And you certainly don't want to give a stud like Eli Manning the ball with enough time left to mount a final drive.
But think about what just happened.
There weren't many in the crowd or the press box who had a lot of faith in Folk after two missed field goals and an errant extra point. When the Bucs got a first down at the Giants 13, even New York fans were probably happy that Koetter ordered two kneel downs instead of pointing Jameis Winston toward the end zone.
"That's when you know you've got a coach who is behind you, that's rooting for you," said Clinton McDonald. "Sure we could have thrown the ball down there, but coach didn't do that."
Job On The Line
When Koetter checked his cheat sheet, he saw Folk had made 79-of-87 kicks from 30-39 yards out during his distinguished career. a 91 percent success rate.
To say that Folk split the uprights with the game on the line would be fake news. He tucked his kick just inside the left post, touching off a raucous celebration on the sidelines for a team that has now won six consecutive home games.
"He's a proven kicker," said Mike Evans. "Guys miss kicks, but Nick has proven to be clutch. I wasn't nervous. It was Nick Folk and a chip-shot."
Can you imagine the conversation among Buc fans today if the kick had been missed or blocked? Koetter's confidence in Winston would be debated and Folk might have been out of a job before the Brady Bunch arrived in town.
True Believer
Koetter often talks about how the cavalry isn't coming to One Buc Place to solve any remaining roster issues. He says these are his 53 guys and he trusts they will get the job done.
Then he went out and proved those are not just hollow words.
That kind of unwavering belief will pay major dividends down the road for a franchise that will be hitting the road for six of the following eight weeks after the New England matchup.
The Bucs just proved they can win a game without Kwon Alexander. The Bucs just proved they can win a close game by rallying past a desperate club. The Bucs just proved they can hit the quarter-pole without being stuck in the mud.
But most of all, the Bucs just proved they are led by a man of faith.