Dirk Koetter Belts "Buffoonery" Claim
October 7th, 2017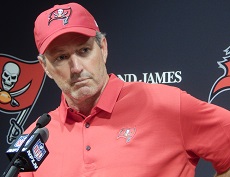 Critics, large and small, are throwing all kinds of daggers at winning head coach Dirk Koetter.
A big one came from the Tampa Bay Times newspaper: "Bucs' clock buffoonery cost them chance to win."
The assertion from columnist Martin Fennelly was Koetter screwed up on Tampa Bay's final drive Thursday night, the potential game-winner against the Patriots.
Spelled out in 451 words, Fennelly thinks Koetter and Jameis Winston absolutely blew it by not spiking a football on first down with 1:10 remaining at midfield to stop the clock while trailing by five points.
Spike the ball!

Run up and spike it! Reset. Relax.

Instead, the Bucs go no huddle and snap the ball. Guys are going right and left. Winston is barking commands from the shotgun.

In the rush, and maybe confusion, Bucs right tackle Demar Dotson is called for a false start. Five yards the other way and, per the rules, a 10-second clock runoff.

It's first and 10 with 33 seconds left.

From 1:10 to :33.
Koetter was asked about that yesterday and delivered an eloquent and nicer version of 'Pfffffttt. Get a clue.'
"If you watch us in two minutes, we rarely clock it. We have a lot of confidence in going to the line. There really should only be a couple-seconds difference in how long it takes you to clock it versus to get off a play. The advantage to continuing to go, in our opinion, is that the defense also doesn't huddle and they have to be playing. If you look at our two-minute offense over the last three years, we have been pretty darn efficient in that. We've always done a pretty good job putting ourselves in position. …

"Yeah, we got a 10-second runoff and that was a communication issue between the quarterback and the center. The right tackle goes down in the stats as getting the penalty, but that was a communication issue between the quarterback and the center. The crowd was loud, not that it's any excuse. But, I can't tell you how many plays we ran no-huddle last night. If we went by that theory, would you be clocking it every time you got a complete pass? I just don't buy into that. You could say I'm wrong, but I don't buy into that one."
Joe's not going to quibble with Koetter here. By spiking the ball there you lose the inherent and valuable defensive disarray. The Dotson penalty was crushing, but it's not what lost them the game. If you want to argue Koetter should have spiked it because his center is new to the position, then Joe could understand.
Koetter also is getting mauled on local sports radio for his onside kick call (another thing Nick Folk was bad at) with just over two minutes to play.
Joe had no problem there, considering the Bucs no longer could rely on Folk kicking a field goal. If the onside kick works, you're a genius. Regardless, the Bucs needed one 3-and-out stop of the Patriots. And they got it.