Cardinals 38, Buccaneers 33
October 15th, 2017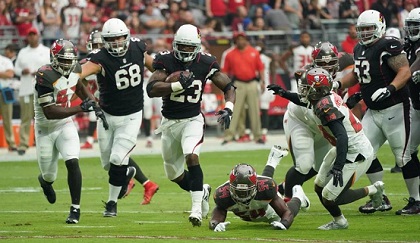 Unfortunately, this five-point road loss feels like a heck of a lot more than just a rough day, one in which your franchise quarterback busted up his shoulder early in the game.
If feels like an indictment of the franchise from top to bottom.
In many ways that's far too harsh, but that's absolutely how it feels. So Joe will go with that this evening.
Start with general manager Jason Licht. A bad edge rush for the fourth consecutive season is on him.
And Joe begged and begged and begged for Licht to at least bring in Adrian Peterson for a workout and a deep look this spring. What would the harm have been to look closely and consider signing him? It didn't happen, despite the powerful endorsement of Peterson from America's Quarterback, Jameis Winston, after Jameis worked out with Peterson this offseason. Clearly, the Bucs didn't think Peterson was worthy of a look, and he proved them wrong today and personally clobbered the Bucs.
As for Dirk Koetter, his team wasn't ready to play. To be down 31-0 and 24-0 at halftime is inexcusable. The defense knew exactly what was coming from the Cardinals, a second-rate team, and couldn't stop it early, couldn't even come close to stopping it.
Koetter's first-quarter decision to punt on 4th-and-4 at the Cardinals 39 yard line down 14-0 was a head-scratcher. It's a dome and your new kicker has that kind of range. Then very late in the first half, Koetter passed on a 4th-and-goal field goal — with Ryan Fitzpatrick filling in at quarterback. And then there's the two-point attempts in the second half versus the extra points. Stop taking points off the damn board!
Major props to the Bucs for their fight to make this an exciting football game, with massive kudos to Fitzpatrick, but that's sort of weak-minded thinking.
Every Bucs fans was expecting an improved season by Tampa Bay. So far, it ain't happening.
The Bucs are now stuck alone in last place in the NFC South.