Bucs Fans Are Speaking
October 26th, 2017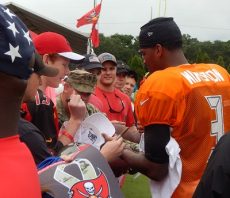 The Bucs haven't played at home since October 5 and arch enemy Cam Newton and a good Panthers team is coming to the Stadium on Dale Mabry Highway.
And there are thousands of unsold tickets.
You can't blame the weather or bad video boards, or the economy. But you could blame the Buccaneers' defense and the rash of depression, disbelief and disappointment swirling around town.
Joe hears it all time: "How are these Bucs 2-4? They're too talented. Same ol' Bucs."
Joe really believes the Tampa Bay area is aching to explode with love and support for their Bucs, but this season has been a colossal kick in the groin so far. It's no surprise Ticketmaster is showing seats available (not resale tickets) in every upper deck section, in addition to others.
Just win these next two games, Bucs, and Joe is sure confidence will be restored in a huge way.
For those wondering, FanRetreat.com has great deals in the lower bowl for Sunday. Use your JoeBucsFan discount code for further savings.