Basements, Tremors & Stink Bombs
October 23rd, 2017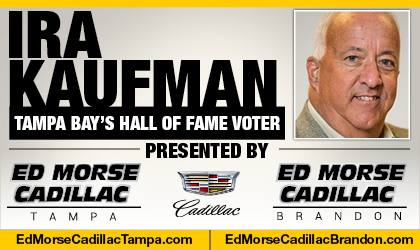 Ira Kaufman is the most beloved, revered and esteemed Buccaneers columnist in town. He has hung his hat at JoeBucsFan.com world headquarters since July 2016. Tampa Bay's only Pro Football Hall of Fame voter, Ira busts out columns here every Monday, Wednesday and Friday, and his award winning podcasts fire Tuesdays and Thursdays. You can also see Ira every football Sunday at 10:30 a.m. on FOX-13, Scott Smith's Tailgate Sunday.
BY IRA KAUFMAN
Buc fans went to bed Sunday night with an incomprehensible thought racing through their heads.
Are the Chicago Bears better than we are?
The NFL standings suggest as much, only five weeks after the Bears trudged out of Raymond James Stadium looking like a 3-13 team playing for a lame-duck coach.
Since that 29-7 victory in the season opener, the Bucs have won only once in five weeks. The Bears split their subsequent six games and are now playing well with a rookie quarterback, Mitch Trubisky.
Suddenly, John Fox no longer looks like dead coach walking. The contrasting fortunes of these two franchises since Sept. 17 is rather shocking.
Tampa Bay's pass rush, effective against Mike Glennon in the opener, has gone on a five-week siesta. The run defense, stout against Jordan Howard, has gone soft.
As much as Dirk Koetter stresses this is a team game, you can't fake steak and you can't fake your biggest weakness.
This defense is unacceptable, and Mike Smith knows it.
Jameis Winston played his butt off on Sunday, but it wasn't enough because a Buc defense that wasn't missing a single starter couldn't contain a popgun attack.
The tackling was lousy, and yes, that includes you, T.J. Ward, and you, Swaggy Baker. A Buffalo offense that was averaging 272 yards rolled up 434.
Through it all, Winston kept firing completions, sore shoulder and all.
"He's a very tough guy, smart kid," said Bills defensive end Jerry Hughes. "He understood that he had to get the ball out quick and he was doing that all day. He's going to be great."
Comforting Company & A Big Miss
The Bucs now trail the surging Saints by two games in the NFC South, with all six division games remaining in the final 10 weeks.
The only saving graces are the issues facing the Falcons and the Panthers. If the Bucs lose at home to Carolina Sunday, is it unreasonable to suggest they pack it in and Drew Brees hits them for 45 points the following week in the Superdome?
How bad is this defense? Glad you asked.
The Bucs are allowing an average of 25 points and 408.5 yards per game. Opposing quarterbacks are completing passes at a 69 percent clip and Tampa Bay is last in the league in sacks.
It gets worse.
The Bucs passed on veteran defensive lineman Calais Campbell as a free agent because he was deemed too expensive. Jacksonville said sign right here and Campbell now leads the league with 10 sacks, helped by a stellar secondary.
One guy can make a huge difference — if he is the right guy. With Campbell creating havoc off the right edge, and inside, the Jags top all teams with 33 sacks. They are on pace to drop quarterbacks 75 times, which would merely top the all-time record of 72 sacks by the 1984 Bears.
Rush and coverage are complementing each other beautifully in Jacksonville, where opponents average only 5.7 yards per pass attempt.
How about Tampa? Not so much.
Buc opponents are averaging 8.2 yards per throw.
Fallout
That's the difference between a share of first place in the AFC South and last place in the NFC South.
Even if Smith wanted to switch to a 3-4 alignment, the Bucs don't appear to have enough time to implement a new scheme. Still, something has to give in a hurry.
Koetter has done his best to keep a lid on any discontent, stressing the Bucs are all in this together. Nice try, coach.
Ward and Baker just sent a tremor through Tranquility Base by going public with their frustrations over playing time. If winning is the best deodorant, losing is a stink bomb, and now Koetter and Jason Licht must deal with the fallout.
This is not a 2-4 football team, but the Bucs are what their record says they are. And right now, they are looking up at the Chicago Bears.