The Sloth In The Room
October 18th, 2017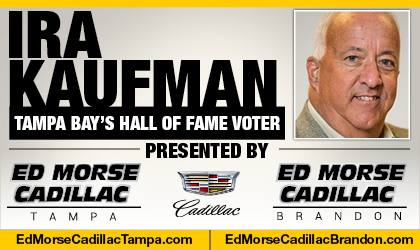 BY IRA KAUFMAN
The time is now.
Somebody has to step up in the Buc locker room behind closed doors and tell 52 other guys that this nonsense won't be tolerated.
Somebody has to put his reputation on the line and assume a leadership position. That's not a natural role for a lot of Tampa Bay players, and that's alright.
Calling people out requires cojones and self-confidence. Getting up on a soapbox doesn't fit everyone, even high-end players like Brent Grimes and Lavonte David.
But somebody has to shake this team out of its lethargy and it has to happen this week. If the Bucs lose in Buffalo and fall to 2-4, their postseason aspirations will be on life support.
They would likely have to close with eight wins in the final 10 weeks to have a credible shot at the playoffs. This franchise hasn't gone on an 8-2 run since 2008, Jon Gruden's final year on the sidelines.
For those of you who argue that speeches don't matter, I invite you to turn your attention to the midpoint of last season, when the Bucs headed into the bye week at 3-5. They had just been embarrassed at home by the Falcons on John Lynch Ring of Honor night.
Robert Ayers, whose glare alone belongs in the next Stephen King movie, offered up a withering rebuke of the first eight games. He said the Bucs were better than what they had showed … a lot better.
He told them to find some pride, get mad and get even. Then they went out and won five consecutive games, giving them control of their playoff destiny at 8-5.
Simple Request
It didn't work out, but the Bucs played meaningful games in December.
Who's it going to be this time around?
There's a problem within the walls of One Buc Place that has nothing to do with talent. Dirk Koetter suggested as much this week.
Whether you're a Koetter supporter or a critic, you have to respect the man's candor. His reaction to a question from ESPN's Jenna Laine was quite illuminating. Koetter was asked whether he sensed any lack of focus once the team arrived in Arizona on Friday.
"Possibly," he answered. "That's a possibility, but that's a gut thing. When that happens, I let them know about it. I don't hold that in. Those guys know how I felt."
It may have been only one or two players, but someone got Koetter's attention — and not in a good way. This was a business trip, pure and simple, and these players are well-paid professionals.
Maintaining a sense of urgency shouldn't be too much to ask, and that brings us back to the need for some honest talk. It can't come from the coaches, it can't come from the executive suite and it can't come from the owners.
Who's it going to be?
Ayers is probably ready and willing to lead once again, but my vote goes to Clinton McDonald. In case you haven't noticed, McDonald has played well this season, adding to his credibility.
And don't forget about the Super Bowl ring McDonald earned as a member of the 2013 Seahawks. Again, credibility.
Seattle still plays with a swagger and these Bucs simply do not.
Can't Be Koetter
Tampa Bay was pushed around on both sides of the ball and the Bucs did not match Arizona's physicality from the jump. Did you see how aggressively Cardinal defensive backs used their hands to hinder Tampa Bay receivers?
The officials kept saying play on, so Patrick Peterson and company kept clutching, grabbing and bumping the Bucs downfield.
Whatever works.
Something has to give this week at One Buc Place — someone has to lay down the law. Koetter is tired of talking about focus. He's got other issues, like figuring out how to jump-start a listless offense.
I don't care if it's Ayers, McDonald or Bryan Anger, somebody has to loudly address the sloth in the room.
Before it's too late.
Ira Kaufman is the most beloved, revered and esteemed Buccaneers columnist in town. He has hung his hat at JoeBucsFan.com world headquarters since July 2016. Tampa Bay's only Pro Football Hall of Fame voter, Ira busts out columns here every Monday, Wednesday and Friday, and his award winning podcasts fire Tuesdays and Thursdays. You can also see Ira every football Sunday at 10:30 a.m. on FOX-13, Scott Smith's Tailgate Sunday.