Broken Hearted
October 31st, 2017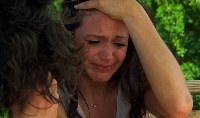 Look at what the Bucs have done.
In a span over three months, it seems the nation fell in love with the Bucs thanks to their appearance on the NFL Films-produced "Hard Knocks." And now it's Halloween and the Bucs slapped the face of their new lovers, tossed a beer in their grills, and ran away.
That's the way Dan Hanzus of NFL.com feels. He bought into the Bucs while watching "Hard Knocks" and thought for sure the Bucs were a budding NFL juggernaut.
Instead, at 2-5, the Bucs have left Hanzus alone. Lonely. Forlorn. Used. Abused.
@DanHanzus: Bucs the latest reminder of perils of developing feelings for a Hard Knocks team.
Judging by the way Bucs fans have freaked out after the offensive shat show Sunday, and have angrily turned on this team and are all but demanding a total housecleaning from the suits to America's Quarterback, Pro Bowler Jameis Winston, to the underwhelming free agents, Joe is guessing Bucs fans can relate to Hanzus.
It seems Bucs fans have reacted to the 2-5 start like they just got home from a hard day at work only to catch their significant other in bed with the high school janitor.