TV Map For Bears-Bucs Game
September 16th, 2017
Here is where the Bears-Bucs game can be found without the need for NFL Sunday Ticket.
Yes, it's that time of the year again when Joe breaks out the TV viewing maps.
Basically, if you live in SEC country or in Illinois, you won't have to run to the local watering hole to watch the game as it will be broadcast on your local FOX over-the-air affiliate.
As always, this FOX 1 o'clock games map is courtesy of 506sports.com.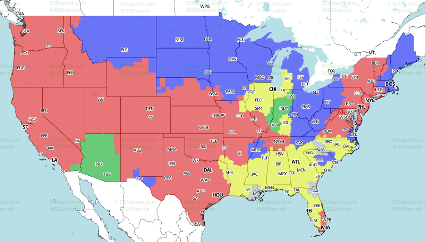 Yellow: Chicago @ Tampa Bay
Red: Philadelphia @ Kansas City
Purple: Minnesota @ Pittsburgh
Green: Arizona @ Indianapolis
Gray: No FOX 1 p.m. game televised.