Ticket Prices Falling For Bears Game
September 8th, 2017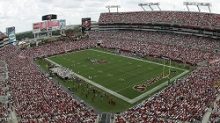 It sure seems like Hurricane Irma is driving down ticket prices on the secondary market for the Buccaneers' season-opener next weekend.
That's great news for those who put off buying a pair for the most anticipated Bucs opener since Tampa Bay was "Tennessee-Ready" and got chain-whipped by the Titans in 2015.
You remember that debacle, when on the heels of a winless 2014 home season, Bucs fans endured Austin Seferian-Jackwagon showboating into the end zone down 42-7 in the fourth quarter. (Video below)
Anyway, things are looking up for the Bucs — and previously exorbitant ticket prices for Sept. 17 are falling.
At FanRetreat.com, where fees are very minimal, Bucs-Bears tickets are starting at $60 at last check. (Don't forget your $10 off JOEBUCSFAN discount code.) Rates at StubHub have fallen to about $60 + fees.
If there's any kind of storm damage around (please, no!), Joe suspects rates could fall significantly, with some Bucs fans having bigger things to worry about and a percentage of Bears fans throwing in the towel on their travel plans.