Pressure Is On David And Beckwith
September 13th, 2017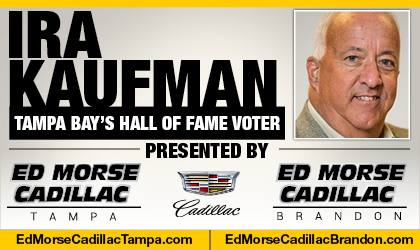 Ira Kaufman is the most beloved, revered and esteemed Buccaneers columnist in town. He has hung his hat at JoeBucsFan.com world headquarters since July 2016. Tampa Bay's only Pro Football Hall of Fame voter, Ira busts out columns here every Monday, Wednesday and Friday, and his award winning podcasts fire Tuesdays and Thursdays.
BY IRA KAUFMAN
The Bears have a scary game plan for upsetting the Bucs on Sunday, and it involves a two-headed monster.
John Fox's club played the Falcons tough in Week 1, dropping a 23-17 decision in Mike Glennon's Chicago debut, but the offense looked out of character. Glennon threw 40 passes, which is about 10 too many, and the Bears ran only 19 times, about 10 too few.
Still, the number that jumped off the sheet at Mike Smith after the game was Chicago's average yards per carry: 6.6. That's not a typo, that's a flashing warning sign.
Buc fans know all about Jordan Howard, who ranked second only to Ezekiel Elliott in rushing yards last year. Now the Bears have unveiled another dynamic rookie back to complement Howard's power game.
"He's a game-wrecker and a half," Gerald McCoy told me, referring to diminutive Tarik Cohen. "He's short, but he's not small, and he's quicker than he is fast."
A fourth-round pick out of North Carolina A&T, Cohen opened his pro career with 158 all-purpose yards against the Falcons, who boast a speedy defense. Howard accounted for 52 of Chicago's 125 rushing yards and the Bears will surely test a Buc run defense that allowed an average of 4.4 yards per carry in 2016.
"Very impressive, both of their backs," said Dirk Koetter. "I know everyone's on the rookie's bandwagon this week, and rightfully so, but let's not forget Howard was the second-leading rusher in the league. They've got a really nice 1-2 punch going."
The Human Joystick
The Bears will arrive in town with a solid offensive line and pedestrian targets for Glennon, who was sacked four times last week. Cohen was targeted 12 times, catching eight passes, and he needed only five carries to finish with 66 yards on the ground.
"Tarik is very explosive, and you could see that early on in rookie mini-camp," said Bears coach John Fox. "He loves to play the game and he's not afraid to work. Our scouting department did a good job locating him."
In college, the 5-foot-6 Cohen was dubbed "The Human Joystick" for his dazzling change of direction. He reeled off four touchdown runs of at least 83 yards last year and some pro scouts compared him to a young Darren Sproles.
That's a high compliment and it kind of begs the question why Cohen wasn't selected until the 119th overall pick.
"They obviously wanted to get that rookie the ball as much as possible — and he's a guy who can really scoot," said Smith, who should have all of his projected starters available. "Cohen can create matchup issues for our linebackers. They want him to be an integral part of what they want to do."
When Howard isn't pounding between the tackles, the Bears will be determined to get the ball to Cohen in space, That puts a lot of pressure on Lavonte David and rookie Kendell Beckwith to take proper angles while closing in the flat.
And let's not forget about Chris Baker's burden in his Buc debut.
Swaggy was brought to Tampa as a free agent in March to fortify the interior of a defensive line that got pushed around too often last fall. We've seen Baker hug a tree. We've seen him heckle a kicker. We've seen him mug for the camera.
How about a couple of tackles for losses?
The Bucs can make a loud statement Sunday, but the Bears didn't go quietly against the defending NFC champions.
"Opening day at home," said McCoy. "It's going to be a tough one."