Outrage In Denver Over T.J. Ward Release; Buccaneers Pounce
September 3rd, 2017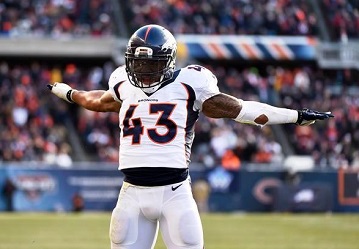 Broncos players are unhappy.
As Joe detailed earlier, credible reports claim three-time Pro Bowl safety T.J. Ward, who was just cut by Denver, is your newest Buccaneer.
So Joe sought reaction in Denver — and it made Joe smile.
Ward wasn't a 30-year-old castoff expected to be released.
On the contrary, a fan poll on DenverPost.com shows 55 percent of Broncos fans "hate" the decision to cut Ward.
But more important, Broncos players expressed their disgust publicly.
News that the Broncos were considering trading or releasing Ward left the locker room in disbelief last week, with many players still hoping it was untrue even as reality set in.

"It was shocking just to come out of nowhere toward the end of camp," Parks said. "But at the end of the day it's a business. He's been through it once already, so I'm pretty sure he knows how to handle it."

Von Miller argued for Ward to stay:

"I don't think he should be going," he said. "That's a cornerstone of the No Fly Zone."

Safety Darian Stewart did, too:

"I don't know if they are going to listen to us, but I think it is going to impact a lot," he said. "He is the key leader and a good teammate."

Elway understood how the players felt, and he knew the decision wouldn't be fully embraced, at least initially.

"It's always hard. I will tell you I was in that locker room and I didn't agree with every move that management made," Elway said. "You create those relationships in that locker room and it's important. T.J. was a big part of that, but I can tell you how many friends and people I had cut over my career and didn't agree with all of them but that's part of it. I think that they understand, at least I hope they understand, we had to do what we believe is best for the Denver Broncos. … When you make tough ones like this, they're not always going to be popular. But I think the young guys will step up and play well and fill those shoes very well."
There's much more via the link above. Ward even says he was coming off his best NFL season.
Joe is fired up to see the urgency in general manager Jason Licht. Mike Smith must be drooling this morning.