"I Gotta Look Good"
September 19th, 2017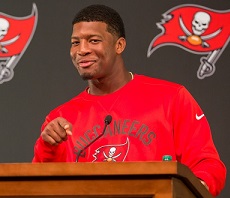 The corporate world is embracing America's Quarterback, Jameis Winston, more and more.
And now DraftKings is all hot in the pants about teaming with Jameis.
Joe got an email today from a fancy Boston ad agency asking Joe to share this video below. It's Jameis shopping for super-expensive luxury cars in Clearwater (even though he should wise up and visit Ed Morse Cadillac Tampa and Ed Morse Cadillac Brandon.)
Among many things, Jameis explains "I gotta look good."
Enjoy!