First Depth Chart Of 2017
September 6th, 2017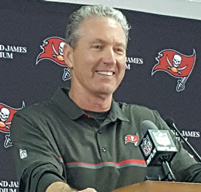 Yeah, the Bucs released a depth chart earlier in preseason that was, as expected, a bunch of hooey.
Yesterday, the Bucs released their depth chart in advance of the first game of the 2017 regular season, whenever that may be played. There are real no surprises, though a few things jumped out at Joe.
* Kendell Beckwith is listed as the starting SAM linebacker. Later today, we should get the first injury reports so we will have an idea if Kwon Alexander, who was dinged in training camp, will be able to go Sunday (if the Bucs play Sunday).
* Both Jacquizz Rodgers and Charles Sims are listed as No. 1 running backs.
* Ryan Smith is listed as the kick return specialist. That thud you just heard is Joe's head hitting his keyboard.