Is DeSean Jackson Jealous?
September 6th, 2017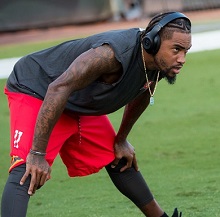 Interesting back and forth on the preseason-game sidelines between DeSean Jackson and America's Quarterback, Jameis Winston.
Man, Joe is going to miss the Hard Knocks cameras and microphones.
In Tuesday night's episode, Jameis and Jackson are seen chatting during Thursday's Bucs-Redskins game.
Both wearing street clothes, Jackson comes up to Jameis and says, "Go deep. Go D-Jax and Winston!" Jameis then hugs Jackson and says, "Be ready."
Jackson replies, "You talking about Game 1? You talkin' about Week 1?" And Jameis says, "Yes."
There's some laughter and Jackson says, "I know you got your connection with your boy. That's love."
Jameis gets a perplexed look on his face and says, "Who, Mike?" And Jackson says, "Y'all been playing together for years. You're supposed to."
That didn't go over well with Jameis. His face got sour and he replied, "Hell, yeah! I've got a connection with you, too. I don't know what you're talking about. You know I love Mike. (Jameis and Jackson are now holding hands) Mike gave me a reason to love him. Now go ahead and give me a reason to love you, too. I already love you. C'mon, man."
During that last exchange, Jackson was repeating that he doesn't hate and that Jameis should love Evans.
Joe found the 10-seconds of back and forth compelling. It was almost as if Jackson is feeling jealous of Evans, or is doing some psychological angling to get more balls thrown his way.
Regardless, it was a surprising attitude from a 10-year veteran.
We learned during a previous Hard Knocks episode that Jackson really wants the football, even enough to be upset with a lack of opportunities in practice.
Joe wonders how this all might translate to the regular season, especially if Jameis has his full complement of weapons available and Jackson has few targets. After all, there is only one football.