"He's Going To Have To Get Better"
September 27th, 2017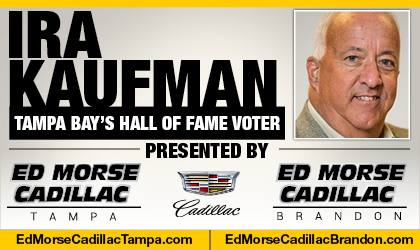 Ira Kaufman is the most beloved, revered and esteemed Buccaneers columnist in town. He has hung his hat at JoeBucsFan.com world headquarters since July 2016. Tampa Bay's only Pro Football Hall of Fame voter, Ira busts out columns here every Monday, Wednesday and Friday, and his award winning podcasts fire Tuesdays and Thursdays. You can also see Ira every football Sunday at 10:30 a.m. on FOX-13, Scott Smith's Tailgate Sunday.
BY IRA KAUFMAN
The majority of Sunday's post-game criticism was directed at Tampa Bay's passive defense — and deservedly so.
If the game had been close, there's a good chance the Vikings would have rolled up 600 yards. Guess what?
It wasn't close.
If you're into asterisks, you can plant a big one next to Mike Smith's side of the ball because the Bucs were missing key starters like Kwon Alexander and Brent Grimes. Lavonte David and Noah Spence were injured during the game, further testing Tampa Bay's depth.
Rookie Kendell Beckwith did a nice job in the middle, but Alexander clearly sets the tone for a club that is now 0-5 without him.
The absence of Grimes proved equally important, and that's something to note for any Buc fan who thinks Tampa Bay should move on from No. 24 next season, when Grimes turns 35.
With Odell Beckham Jr. now playing like the dog he claims to be, the Bucs desperately need Grimes on the field for this upcoming matchup. If Grimes returns, Vernon Hargreaves can revert back to his normal No. 2 spot and Smith can go back to his normal blueprint for the secondary.
We just saw what happens when that game plan goes awry.
But Dirk Koetter's offense also has some explaining to do through two weeks.
Case Against Jameis
The ground game, so effective in 2015 when Koetter was offensive coordinator, continues to struggle. Tampa Bay is averaging only 3.3 yards per rushing attempt, and that weakness is having a dramatic effect on Jameis Winston's production.
Here's one painful way to look at it.
Winston and Case Keenum have each attempted 70 passes this season. Winston has completed 46 throws for 532 yards, with three TD passes and three interceptions. Keenum has hit on 45 throws for 536 yards, with three TD passes and zero picks.
To be fair, Keenum has had the benefit of handing off to rookie Dalvin Cook, who has certainly lived up to expectations for the Vikings.
The biggest difference is in the area of impact plays. Keenum has seven completions of at least 20 yards and three completions of 40 yards or more. Winston has hit on only three passes of 20 yards or more and he is still looking for a completion longer than 32 yards.
Every Buc fan who spent the past five months salivating over Winston's array of weapons figured this team had addressed a glaring need for explosive plays. But through two games, the Bucs don't have a 15-yard run or a 35-yard reception.
Dungy Points At The Franchise
Winston still has to show Buc Nation that he has improved his long-ball accuracy. He underthrew DeSean Jackson on a potential scoring pass against Minnesota, one of three picks for a young quarterback still learning the art of looking off defenders.
"Jameis Winston wasn't great," said Hall of Fame coach Tony Dungy. "They've got a lot of weapons, a lot of toys, but what he's got to do is be careful with the football. He wants to take chances. He wants to make plays, and this is where he's going to have to get better if they're going to be a playoff team. Very talented – got to take care of the ball."
The winless Giants may be desperate, but they're certainly beatable. New York's offensive line is in shambles and the Bucs have a five-game home winning streak heading into this sold-out matchup.
Tampa Bay's embattled defense will play better, but the buck hardly stops there. Winston needs to be the best quarterback on the field.
He wasn't last week. Not by a longshot.