A True Must-Win Sunday
September 11th, 2017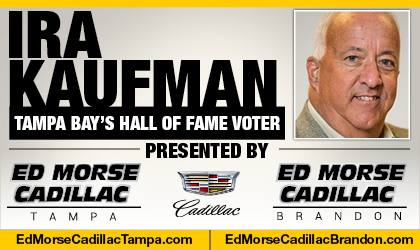 Ira Kaufman is the most beloved, revered and esteemed Buccaneers columnist in town. He has hung his hat at JoeBucsFan.com world headquarters since July 2016. Tampa Bay's only Pro Football Hall of Fame voter, Ira busts out columns here every Monday, Wednesday and Friday, and his award winning podcasts fire Tuesdays and Thursdays.
BY IRA KAUFMAN
This is one they simply must have.
In the long wake of Hurricane Irma, the Buccaneers don't have much to time to refocus. Players are scrambling to return to the Bay area and Dirk Koetter's cherished practice time has taken a direct hit.
Still, this team is healthy and the Bears are lousy. Those are the factors that count as the Bucs prepare for a season opener like no other in the franchise's 42-year history.
Tampa Bay needs to avoid its traditional slow start and build confidence throughout September. Even with last season's riveting Week 1 win at Atlanta, the Bucs couldn't avoid another 1-3 getaway.
In the past five years, the Bucs have opened 1-3 on four occasions. Just to break the monotony, they threw in an 0-4 start in 2013, Greg Schiano's second and final season on the sidelines.
Hard to believe, but the Bucs have hit the quarter-pole with a cumulative 4-16 mark since Raheem Morris departed the premises.
But that's not the only reason this Chicago matchup is so critical in setting a tone.
Rancid Home Cooking
NFL clubs rely on home sweet home to generate momentum. Go 6-2 at home and 4-4 on the road and you are in the thick of the playoff chase.
Not so in Tampa, where the Bucs are 13-27 in home games and 15-25 on the road since 2012. That's nuts. That's absurd. That's embarrassing.
The only NFL club with fewer home wins during that span is Jacksonville, which is 11-29 at EverBank Field. I don't know a single Buc fan who would ever want to be linked to the hapless Jaguars in any manner.
How bad have the Bucs been at home? Think about it — they have fewer home wins since 2012 than the Cleveland Browns.
No wonder Koetter has embraced the Stick Carriers, hoping their enthusiasm can build a real home-field advantage. He's tired of seeing out-of-town jerseys at Raymond James Stadium, but the Bucs have to do their part by winning.
The length and extent of this home misery is stunning.
Tampa Bay has gone eight consecutive seasons without posting a winning record at home. The franchise record streak for home misery is 10 years (1985-1994), a span which encompasses four head coaches and an era of national disdain orchestrated by Johnny Carson.
Yes, home cooking has been rancid around these parts for far too long. And with the Giants and Patriots rolling into town in early October, this Chicago matchup is critical.
NFC South Anomaly
Irma has come and gone, so Buc supporters are in desperate need of something to feel good about. And while an opening-day loss would hardly be deemed a fatal blow, the potential consequences could be profound heading into Minnesota.
Establishing yourself as a home-field power has been a constant Koetter theme for the past 18 months. The time for talk is over.
In the past five years, the Panthers are 26-14 at home, followed by the Saints (23-17) and Falcons (22-18). Add it all up and that's a 59 percent success rate for Tampa Bay's division rivals.
Time to join the club, fellas. Don't just poke the Bears … kick 'em.