Good "Complicated"
September 18th, 2017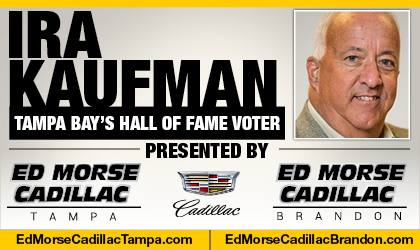 Ira Kaufman is the most beloved, revered and esteemed Buccaneers columnist in town. He has hung his hat at JoeBucsFan.com world headquarters since July 2016. Tampa Bay's only Pro Football Hall of Fame voter, Ira busts out columns here every Monday, Wednesday and Friday, and his award winning podcasts fire Tuesdays and Thursdays.
BY IRA KAUFMAN
If we just saw the Bucs looking rusty, the rest of the NFL is in a lot of trouble.
I'll be the first to admit Tampa Bay's long layoff loomed as a major concern heading into Sunday's matchup against the Bears. While Chicago played a competitive game last week, Buc players received six days off.
But instead of feeling their way early on, the Bucs were feeling it from the start, especially Mike Smith's cantankerous crew.
"Wow, they were unbelievable today," Cameron Brate said of a defense that scored a touchdown and kept setting Jameis Winston up in favorable field position. "We always talk about winning the turnover battle, and four takeaways gives you a chance to win every time."
The Bears may be saddled with the most anonymous group of receivers in the league, so Mike Glennon will continue to struggle. The Bucs made Glennon's job even tougher because Jordan Howard and rookie Tarik Cohen were singing the Motown blues — nowhere to run to, baby, nowhere to hide.
"They got 20 yards rushing," said Evan Smith, gazing in admiration at the post-game stat sheet. "That's a team that prides itself on rushing, but we shut 'em down."
If Tampa Bay's speedy linebacker corps stays healthy, it's going to be difficult to run wide on the Bucs this season. Kwon Alexander, Lavonte David and rookie Kendell Beckwith close very quickly on toss plays and the defense registered six tackles for loss on Sunday.
It's Complicated
Next week's primary challenge is containing rookie Dalvin Cook, who has rushed for 191 yards through Minnesota's first two games, averaging 5.6 yards per carry.
You should have seen Mike Smith after the game, lamenting the late Chicago score that prevented a shutout. Smith has experienced the highs and lows of coaching in the pro ranks and the Bucs are fortunate to have a coordinator of his caliber.
"Our defense played their butts off today," said Ali Marpet. "We see it every day in practice. They have speed and they throw a lot at you. It's a complicated defense."
What's not complicated is Tampa Bay's approach this week:.focus on the opponent, not the press clippings.
You should never read too much into Week 1, good or bad. Ask the Jaguars, who didn't show up at home Sunday after a stellar season opener. Ask the Titans, who rebounded from a poor effort at home to rout Jacksonville.
And if the Bucs need any further reminding, look no further than 2016, when Tampa Bay followed a dramatic win at Atlanta with an embarrassing effort at Arizona.
"We're confident, but we're not cocky," said Clinton McDonald. "We go into every game thinking we're going to win. Nothing wrong with that, but we respect every opponent."
Proving It
Dirk Koetter wasn't thrilled with a second half that generated only three points, but the Bucs posted their fifth consecutive home victory. The next home game, against the Giants Oct. 1, is expected to be a sellout and a 2-0 start would create quite a buzz from Ybor City to Riverview.
On a roster teeming with talent, Mike Evans once again flashed as Tampa Bay's best player.
The difference in maturity between the Evans of 2015 and the Evans of 2017 is astonishing and the DeSean Jackson effect is already on display as the Bears primarily utilized single coverage on No. 13.
Good luck with that.
So what do we make of the home team after Chapter One? The Bucs just beat a team they should beat, and they did so convincingly. That has rarely been the case in this town for the past decade.
"I think we showed that the layoff was irrelevant," Marpet said. "We were ready to play."