New Clarity; No Excuses
September 6th, 2017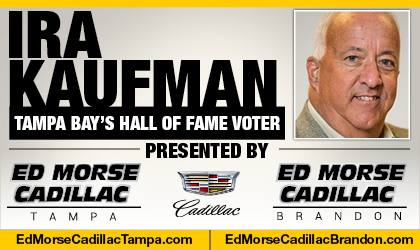 By IRA KAUFMAN
No excuses.
Hurricane Irma is scary and dangerous, but this mega-storm isn't going to hang a loss on the Buccaneers. The Bucs and Dolphins are being tested right now and their response will tell us a lot about both teams.
There's a 185-mph monster churning out in the Atlantic, already causing havoc in the Caribbean and threatening eventual landfall on the Sunshine State. Irma is the mother of all football distractions and Dirk Koetter is wisely advising his players to do what they need to do for the safety of their families in response to a potential life-threatening event.
But when the Bucs open the 2017 season against Mike Glennon and the Bears, Irma can't be part of the playbook. These are grown men paid very well to do a job — and that job is to avoid another early-season rut.
Enough with the 1-3 starts.
No Veering
Ali Marpet has enough to worry about heading into his first real football game as a starting center. Jameis Winston, with only five first-quarter touchdown passes in 32 games, needs to prove he can start fast and reach the end zone when he sees red.
When Irma passes, and it will, it shouldn't leave an unfocused NFL team in its wake. Koetter and Jason Licht believe in the character of this 53-man group, and that character is about to be challenged.
In the aftermath of Irma, Buc fans will look forward to an exciting season, anticipating the first playoff berth in a decade. This team is healthy and driven to succeed, and even a historic hurricane shouldn't cause this franchise to veer off course.
When the rain and wind passes, a new resolve needs to emerge. Stow any chatter about lost bye weeks and competitive disadvantages. The rest of the league doesn't feel your pain.
Koetter has already had his world rocked by this storm.
The one thing we know about all NFL head coaches is that they are creatures of habit. Koetter had been thinking about Sept. 10 at Hard Rock Stadium since the schedule came out in April.
Guess what? That particular matchup is history, pushed back to Nov. 19.
Bright Clarity
There's been some good news through the gloom and the hard knocks. The addition of T.J. Ward is a significant upgrade and Kendell Beckwith looks like another draft steal on Licht's resumé.
Kwon Alexander, Mike Evans, Gerald McCoy and Demar Dotson now have additional time to heal up.
These Bucs have much to prove to a fan base which has been let down far too often. Yes, playing 16 consecutive weeks isn't ideal, especially when 30 other teams will each receive a breather this fall.
But as Koetter says, control what you can control.
Think about the positives. That means extra prep work for a season opener against Chicago, with the Stick Carriers out in force. That means Marpet gets two months worth of experience before looking up and seeing Ndamukong Suh looming over him in Miami.
Most of all, it means the Bucs now have clarity. When the sun breaks through next week, Tampa Bay's future will remain bright.
No excuses.