Best Garbage Time WR, DFS Pricing Advantages, Shootout Games & More
September 22nd, 2017
Podcast (todd-wright-fantasy-football-podcast): Play in new window | Download | Embed
Subscribe: RSS
Todd focuses on shootout-potential games this Sunday. Why? Uh, have you noticed how touchdowns seem to be at a premium this season?
So, the shootout games are where you should look to make decisions on who is in your starting lineups…both in season-long leagues and DFS.
Speaking of DFS, Todd reminds you once again that you can use DFS pricing to your advantage as a research tool and gives you AJ Green and Golden Tate's prices as examples of that this week. There are some QB's and RB's moving up and a lot of guys many drafted as WR1 or WR2 going the other way overall in fantasy projections. And who is the new BEST GARBAGE TIME WR IN FANTASY FOOTBALL? Todd's got that too. Remember, email Todd directly at ToddWrightFantasyFootball@gmail.com with any questions unique to your teams. He has responded to every single email this season and that is not going to change anytime soon.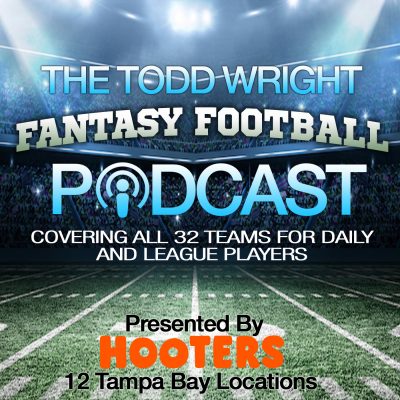 The Todd Wright Fantasy Football Podcast has expanded to twice weekly, Mondays and Fridays! …Enjoy it right here and at iTunes and Google Play.
Click above to listen or to download.